Sowing Seeds of Sustainability: UBISFA farmers Complete FFS training on organic crop and livestock production
CPSU Main Campus — In a bid to empower local farmers and equip them with sustainable organic farming practices, another batch of trainees had successfully completed the Farmers' Field School (FFS) spearheaded by the CPSU - College of Agriculture and Forestry (CAF).
Tagged as "Season-Long Farmers' Field School on Organic Crop and Livestock Production with Emphasis on Climate Change Mitigation and Soil Conservation," the UBISFA participants or the Upper Ballo Integrated Small Farmers Association at Purok Upper Ballo, Brgy. Tagukon, Kabankalan City, proudly received their certificates of completion during their graduation rites last August 11, 2023. The ceremony took place at the CPSU-Main Campus Accreditation Center, honoring a total of 32 dedicated graduates.
The rigorous training program ran for 16 weeks, which commenced on March 4 and concluded on June 30, 2023, celebrated its graduation ceremony on August 11, 2023. This is part of the University's commitment to help residents within its reservation area to gain better economic footing amid the crisis the country is facing today, as they in turn protect and preserve the resources around them.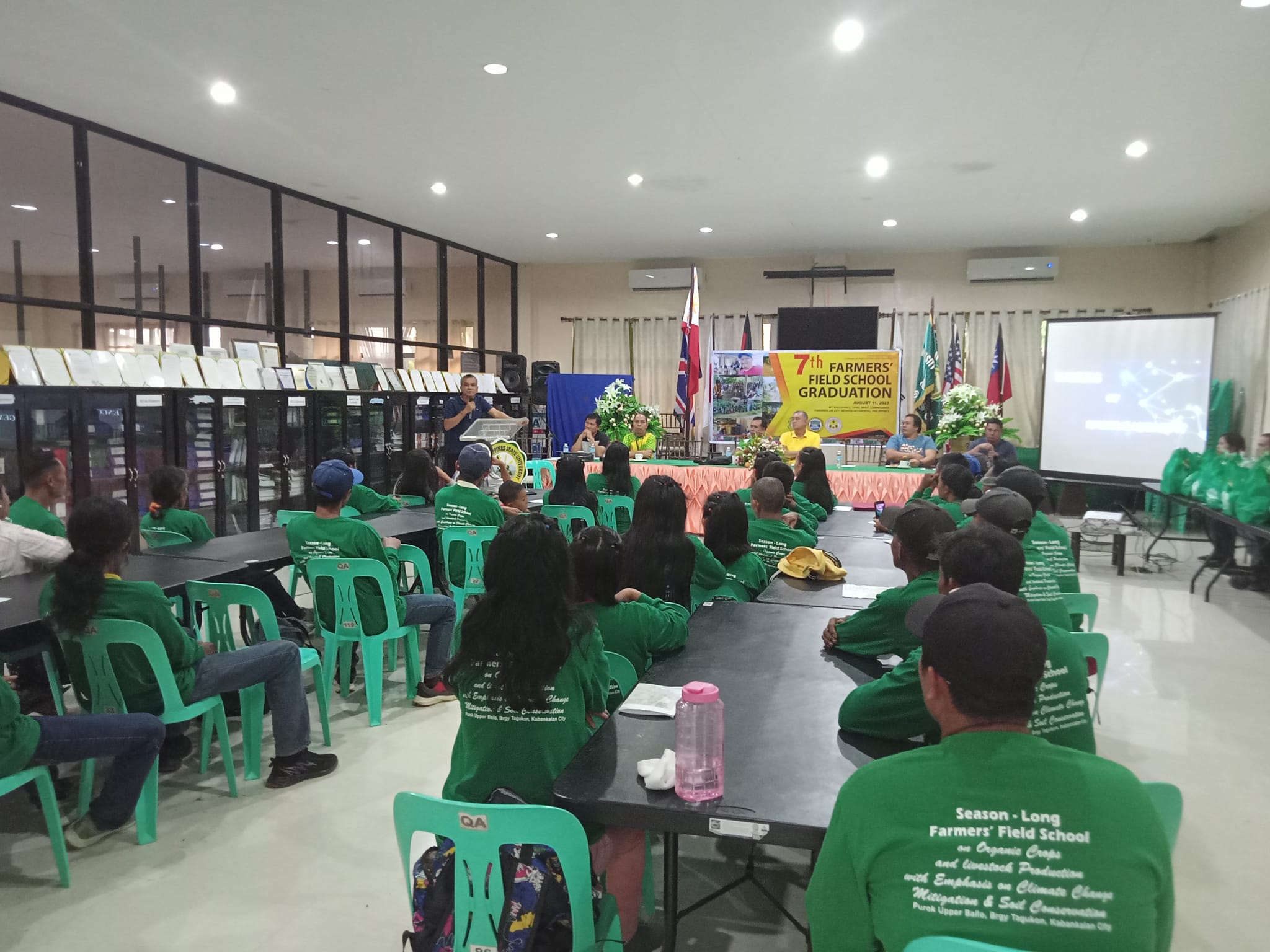 Under the adept guidance of the training facilitators and organizers, the Office of Extension & Community Services (ECSO), College of Agriculture & Forestry (CAF), the Aggies Society, Brgy. Council of Tagukon, Kabankalan City Agriculture Office, and PEMO, the farmers were nurtured through their learning journey. The leadership of Dr. Hansel Pedrosa, CAF Dean, and Dr. Maryvic Pedrosa, CAF Extension Coordinator, with the firm support of Dr. Aladino Moraca, CPSU president, and Dr. Jimmy Degillo, ECSO director, played a pivotal role in steering the program toward success.
The comprehensive training centered on Organic Agriculture aimed at elevating the participants' knowledge, skills, and attitudes within the domain of technical expertise. The objective was to enable them to effectively carry out their basic functions within the specific context of their environment, ultimately fostering a sustainable source of livelihood.
The training yielded encouraging outcomes, with the participants graduating with enhanced capabilities in organic farming and soil conservation. They are now well-equipped to propagate their newfound knowledge within their respective communities, thus ensuring a wider impact and sustainability of these innovative practices.
Dr. Moraca stated that this endeavor stands as a testament to the collaborative efforts of various entities. It not only equips local farmers with vital skills but also contributes to the broader goals of environmental preservation and community resilience.
Now with a total of 12 farmer associations receiving this training since 2020 and setting an inspiring precedent in the neighboring communities, it is hoped that similar programs will be replicated across regions, further strengthening the fabric of sustainable agriculture and fostering a greener, more resilient future for all.
By: J.A. Emoy
Source: M. Pedrosa
Photos: A. Calago