Partnership for the goals: Phranakton Rajabhat University and Central Philippines State University forge partnership for a short course language program
Highlighting on the importance of cross-border academic collaborations in the 21st century, Central Philippines State University (CPSU) welcomed the delegation of esteemed officials from Phranakton Rajabhat University (PNRU) in Bangkok, Thailand last July 20, 2023, for the signing of a Memorandum of Agreement (MOA).
The agreement solidifies a partnership aimed at offering a short course program in English Language, of which, the delivering institution would be CPSU, to assist in enhancing the language proficiency among Thai students and provide them with valuable skills to thrive in a globally interconnected world. Also stated in its scope is the academic exchange between the two institutions, such as collaborative research initiatives, faculty exchange programs, development of specific trainings and supervision for academic staff, and joint conferences to further elevate the academic prowess of both universities.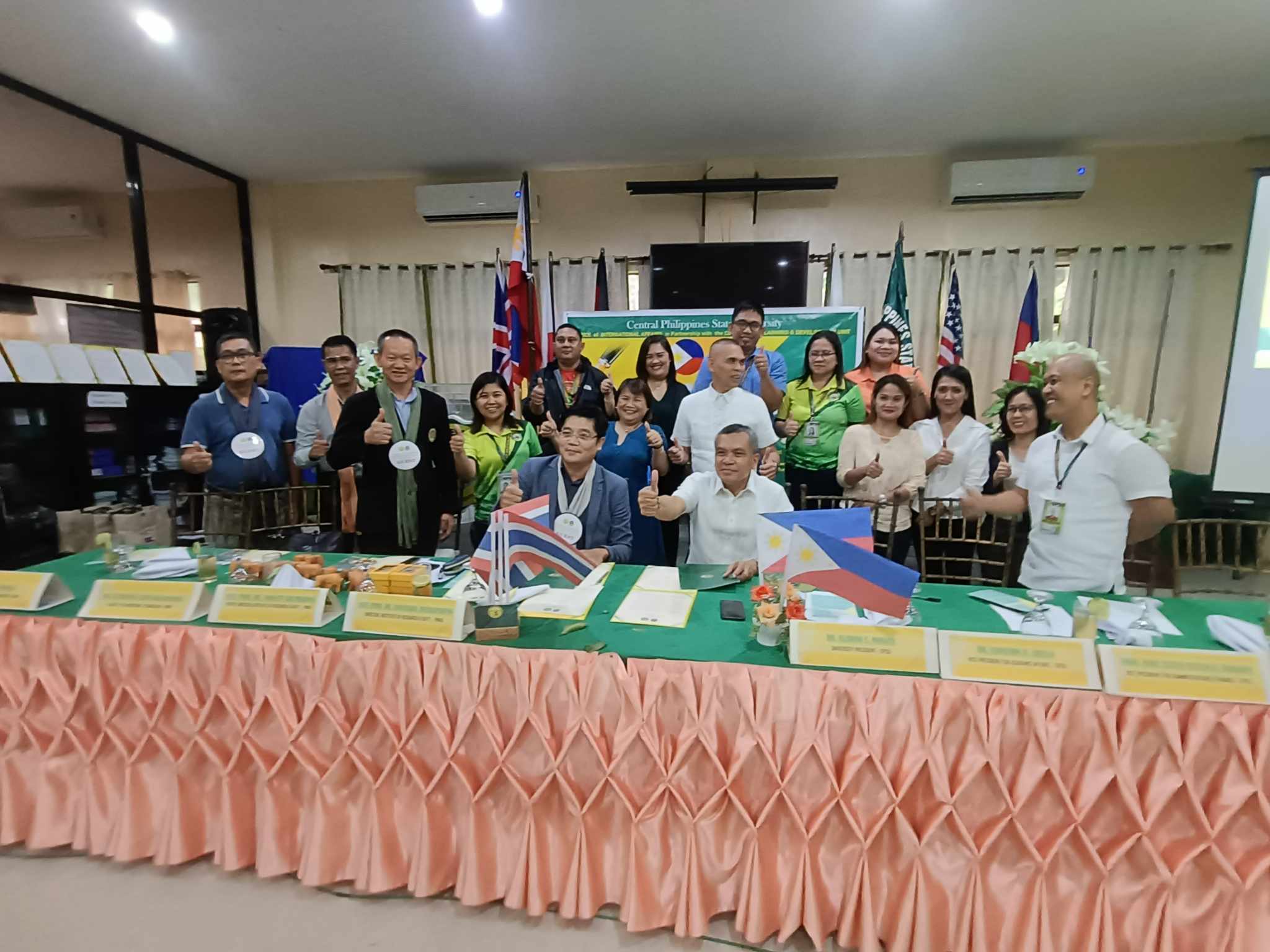 Signing the MOA were Asst. Prof. Anantakul Intarapadung, director of the Institute of Research and Development of Phranakton Rajabhat University, and Dr. Aladino Moraca, President of Central Philippines State University.
Dignitaries from both universities witnessed the inking of the said agreement signaling the significance of the partnership. From PNRU were Asst. Prof. Dr. Yongyut Khamkhong, deputy director, Institute of Research and Development, and Mr. Bancha Plonguan, and Mr. Atthaphan Chantarakarnsakul, both faculty of Industrial Technology.
Also from CPSU were Dr. Fernando Abello, VP for Academic Affairs, Dr. Marc Alexei Caesar Badajos, VP for Admin and Finance, and Dr. Joean Mae Escober, Director for International Affairs, along with the deans, directors, and COTED faculty.
Dr. Moraca expressed his optimism for the partnership, stating how collaborations and linkages with international partners are valued by the University, specifically on English language proficiency being highly relevant in today's globalized world.
Dr. Intarapadung reciprocated the statement, emphasizing the potential benefits the collaboration could bring to the students as a step forward in equipping them with strong English Language skills, enabling them to compete on an international level and become global citizens.
The English Language short course program, slated to commence in the coming months, is designed to cater to PNRU students and personnel, allowing them to improve their language skills irrespective of their proficiency levels. The course will include comprehensive modules focusing on English language reading, writing, listening, and speaking, thereby bolstering the students' overall communication capabilities.
Ms. Gene Rose Bocol. COTED faculty and the curriculum proponent, went on to elucidate briefly the program objectives, curriculum design and objectives, performance objectives, and the educational content.
Dr. Eleanor Castro, Director for Curriculum Planning and Development and the proponent of the PNRU-CPSU partnership, stated how the short course program will not only benefit students academically but also culturally, as it will foster mutual understanding and friendship between Thai and Filipino students.
As both institutions emphasize the importance of the partnership in promoting educational opportunities beyond borders, CPSU and PNRU are now eagerly looking forward to the launching of the English Language short course learning program, creating a more enriching and dynamic learning experience that goes beyond traditional classroom settings.
By: J.A. Emoy