Waving High the Cenphilian Banner: CPSU honors students' meritorious performance during its 77th Recognition Day
Serving as a platform to honor and appreciate the dedication, hard work, and commitment of students across various fields, whether it be academics, sports, arts, cultural, or community service, CPSU through the Office of Student Services and Affairs (OSSA) holds its 77th Recognition Day on July 10, 2023 at the Cultural and Sports Center, Kabankalan City, Negros Occidental.
Students with exemplary academic and co-curricular achievements, as well as the commendable OSSA practitioners, and partner-linkages for the School Year 2022-2023 were given respective recognition in the said event.
CPSU Vice-President for Academic and Affairs, Dr. Fernando D. Abello, warmly welcomed all the awardees and honorees stating how their achievements had given honor to their parents and the University.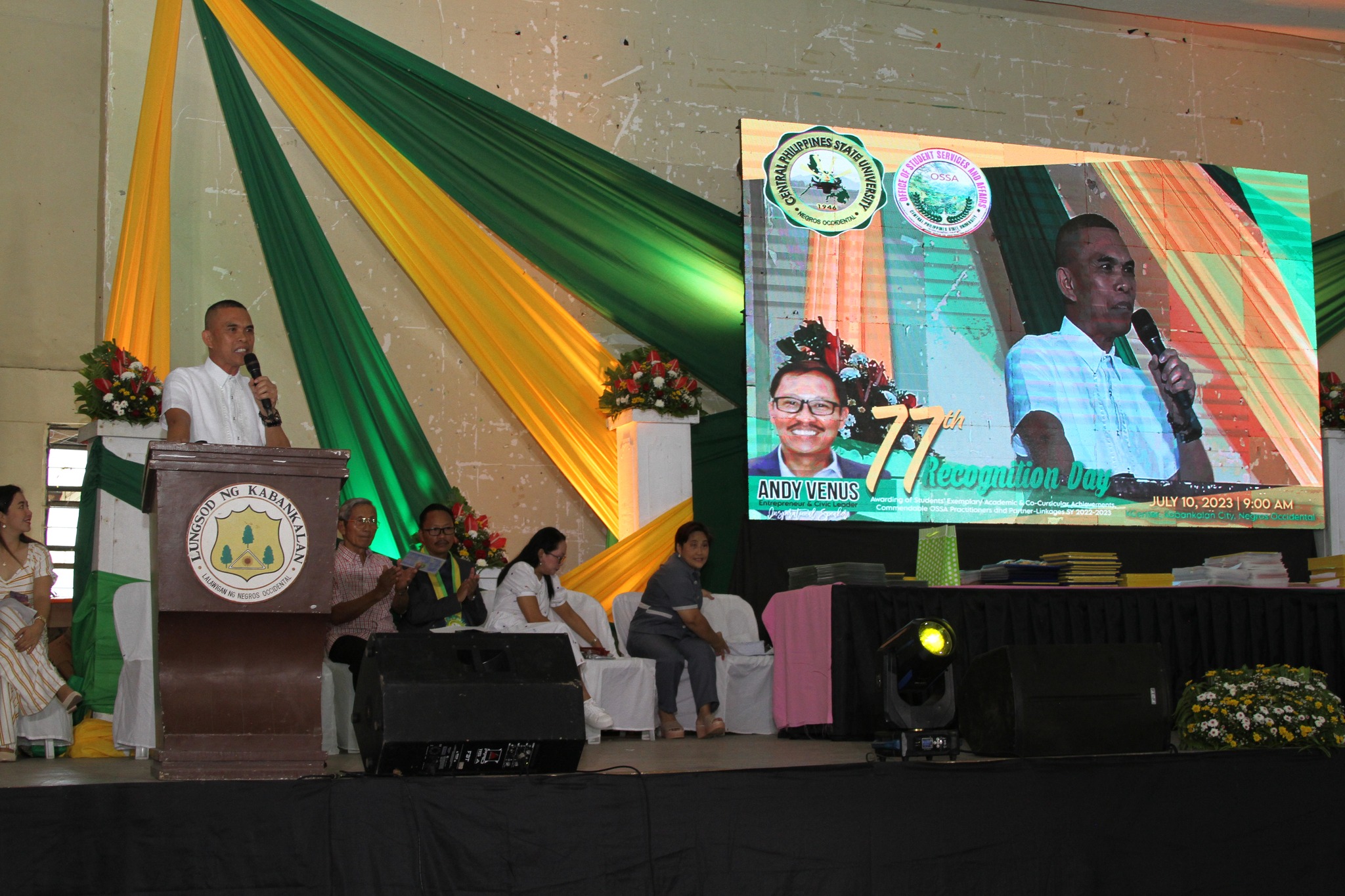 "Please believe in yourself, believe in your professors and other mentors, because the purpose of creating the University is to pass the dynamics of quality education for you to be globally competitive graduates of CPSU," Dr. Abello stated.
A special message was also given by the first NSCA President, Dr. Marcelino A. Dechavez, who also received a plaque of appreciation as a benefactor for his Marcelino A. Dechavez Scholarship Foundation. In his speech, he encapsulated the spirit of admiration, respect, and gratitude in acknowledging the outstanding endeavors of the students who have surpassed expectations and made a significant impact within their respective domains.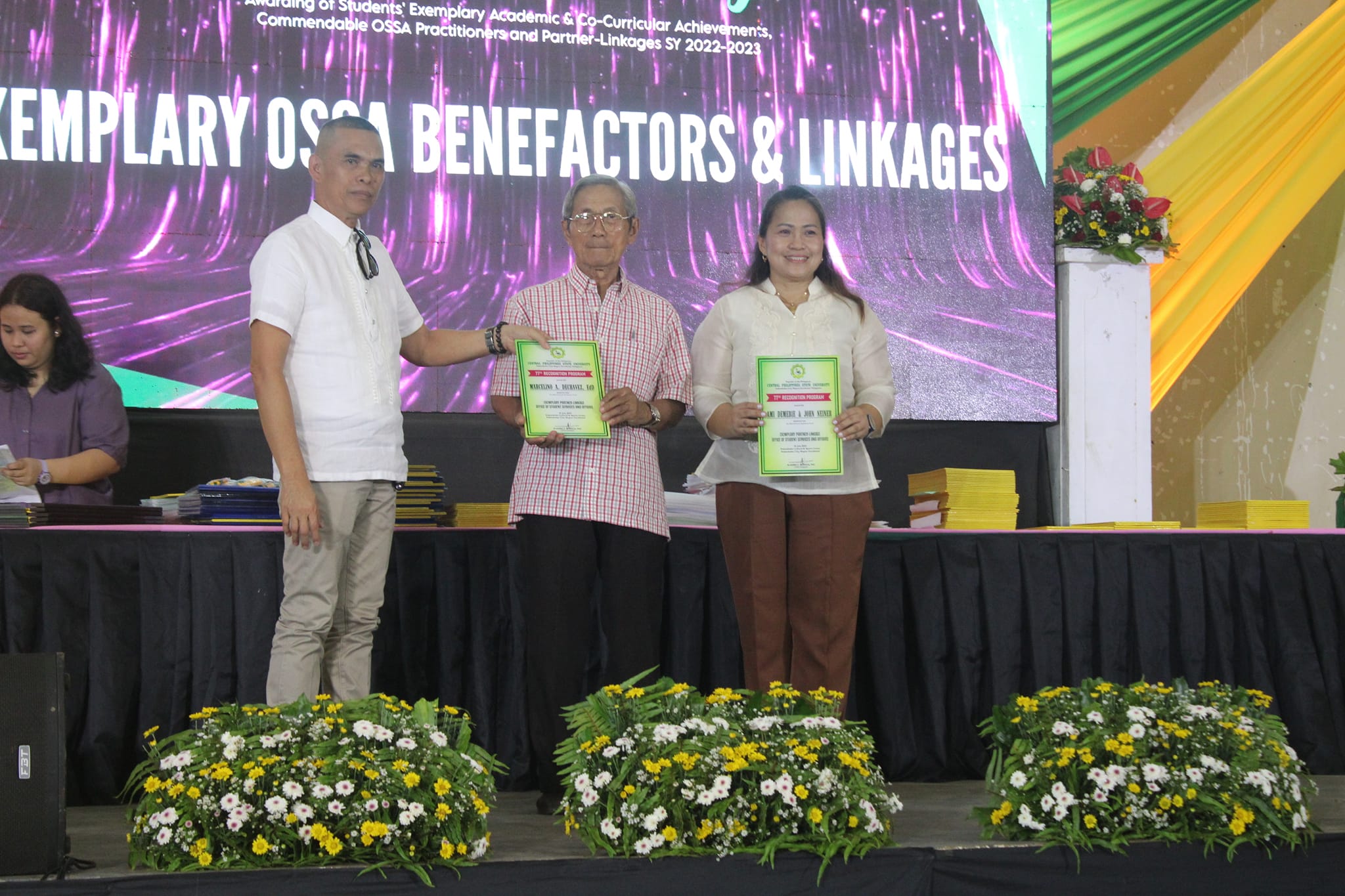 The said event was graced by its invited inspirational speaker, Mr. Andy M. Venus, an Entrepreneur and Civic Leader, and a 2004 NSCA-BS Forestry alumnus. His talk highlighted on the reason for the momentous celebration, which is held not only to reward deserving students, but most importantly to inspire and motivate others to strive for excellence.
"Congratulations on your remarkable achievements and well-deserved recognition. As you proceed into the next step of your life, may you continue to pursue excellence with passion, integrity, and perseverance. May you find joy and purpose in your chosen paths and you make an impact in your respective fields. Remember that your university and the larger community are holding for your success, and always make Central Philippines State University proud", Mr. Venus said.
The first set of awards was given to the commendable OSSA benefactors and partner-linkages for their incessant support to the University's vision and mission. Likewise, the said recognition program awarded certificates and medals to the 700 Academic Excellence awardees, as well as 393 outstanding co-curricular awardees in Best in Leadership; Cultural Arts, Chorale, Journalism; Service and Volunteerism; Best in Thesis, Internship/OJT/Practicum; and the "Pasidungog" Campus Leadership.
The event was witnessed by the students' parents, and guardians, and the University faculty and staff. It was spearheaded by Dr. Pilipinas Ma. D. Jareño, OSSA Dean.
By: Rovelyn D. Forro, BSABE 4/ EIC The Cenphilian
Jeanwin Grace F. Belera, BSABE 4 / Associate Editor - The Cenphilian
Photos: R. Macariola & J.M. Facto / The Cenphilian and OSSA
Below is the list of Academic Awardees: