Cenphilians' Pride: CPSU lauds 25 forestry licensure exam passers, 6th placer For. Petiero receives 50k cash incentives
Central Philippines State University – College of Agriculture and Forestry once again hoists its banner of pride and triumph as it celebrates the 25 successful board examinees in the October 2022 Forester Licensure Examination.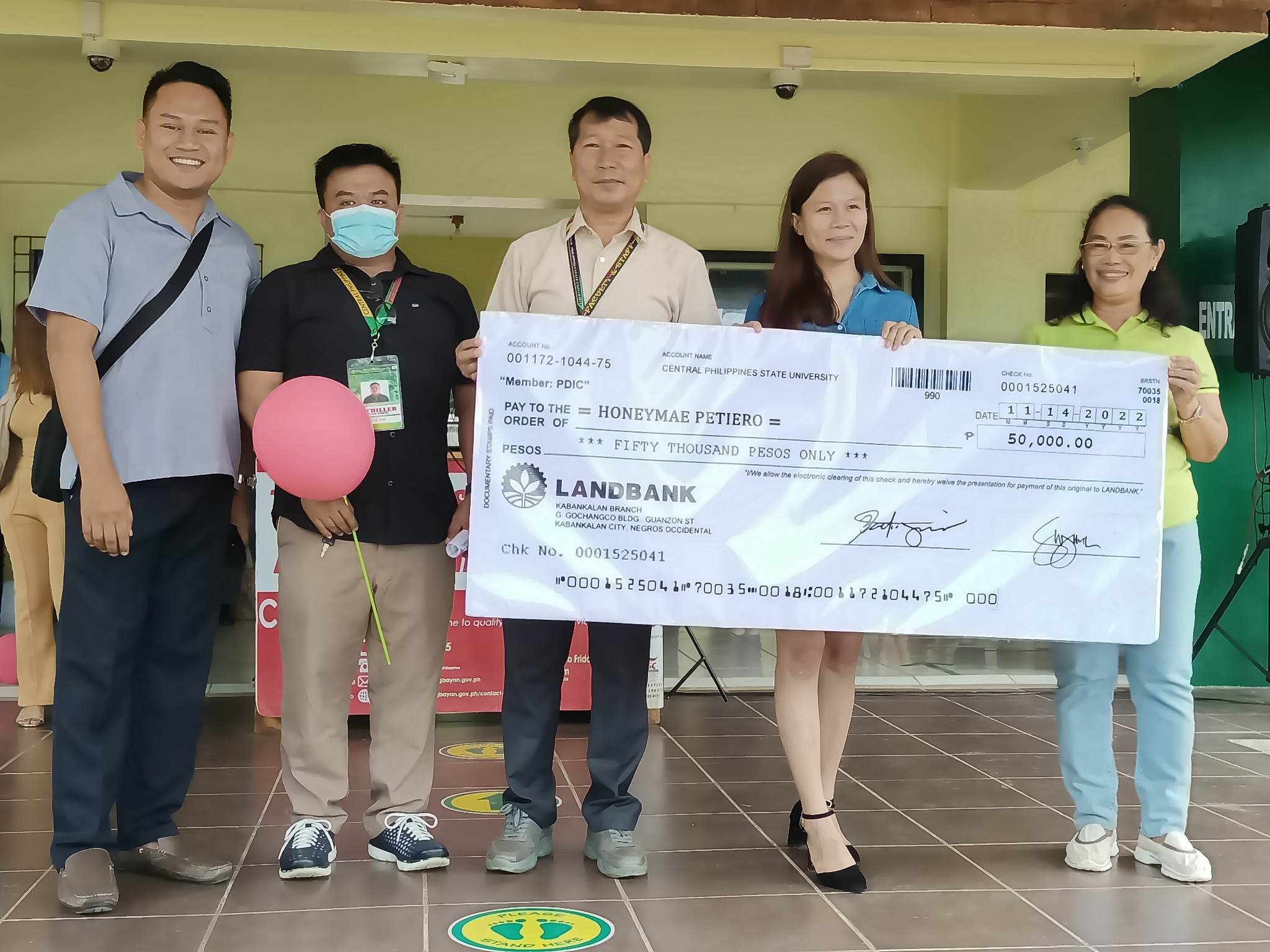 In grateful recognition of their outstanding performance, a formal rite was held last November 14, 2022 in front of the Administration Building. Witnessed by all personnel and students, the event started with a parade, followed by the acknowledgment of the 25 passers.

Among them is For. Honeymae O. Petiero, the class Summa Cum Laude and the topnotcher who secured the 6th spot with a rating of 90.75%. She was awarded Php 50,000.00 incentive as part of the support program of the University to inspire its students to strive harder in their studies.
In her speech, For. Petiero expressed her gratefulness to the people behind her success. She narrated her College journey, the struggles she had to go through despite the pandemic, and the various requirements she had to hurdle, along with other pressures that seemed to weigh her down. Yet despite all those, she managed to take them all as stepping stones to reach this success she embraces today.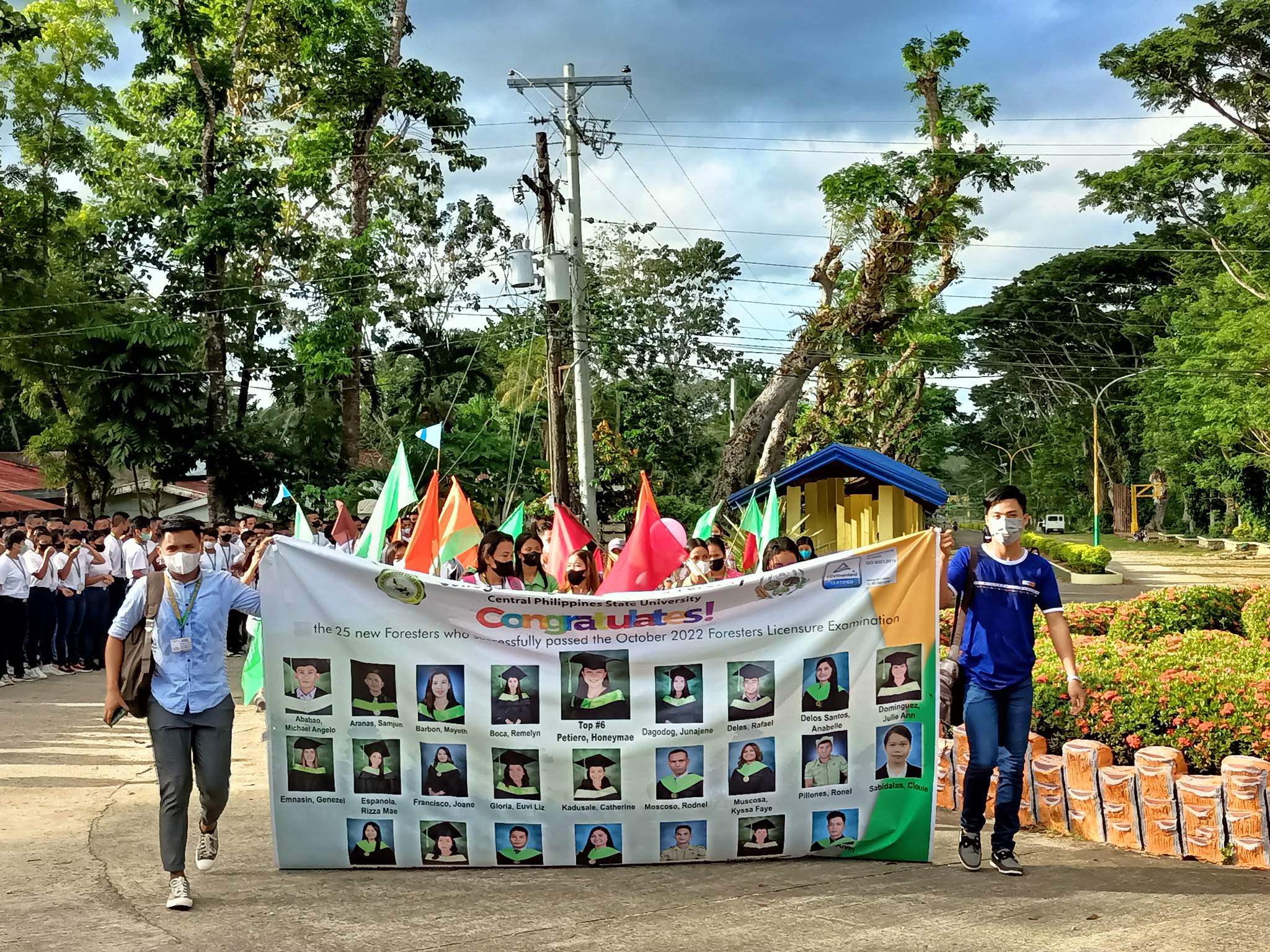 "Success is sweeter and more appreciated when you go through battles in your life that you think you can't fight or surpass and when you don't let go of dreams for which you've worked hard. My special thanks go to Forester Dominic L. Billen, Doc. Mary S. Dagunan, Forester Michael Antenero, Sir Gregorio Predo, Forester Reynaldo Tababa Jr. and Sr., Sir Wendel Pangaral, and Sir Luis Tababa! You are part of what we are and who we are now," For. Petiero added.
Among the passers in the said examination were For. Michael For. Angelo G. Ababao, For. Samjun A. Aranas, For. Mayeth D. Barbon, For. Remelyn G. Boca, For. Juna Jene B. Dagodog, For. Rafael A. Deles, For. Anabelle T. Delos Santos, For. Julie Ann F. Dominguez, For. Genezel C. Emnasin, For. Rizza Mae B. Espanola, For. Joane M. Espanola, For. Euxa Liz P. Gloria, For. Catherine A. Kadusale, For. Rodnel E. Moscoso, For. Kyssa Faye G. Muscosa, For. Ronel P. Pillones, For. Clouie P. Sabidalas, For. Ellen T. Sabio, For. Roselyn B. Samperoy, For. Sanny S. Samperoy, For. Merly B. Tan-awon, For. Jay Ar E. Tolentino, For. Christele V. Tombiga, and For. Arvin R. Yumang.
The ceremonial awarding of the 50k worth check was led by Dr. Marjon Malacapay, the Director for Licensure and Review, together with the CAF dean, Dr. Roland Marcel Bachiller, and the Forestry faculty.
By J.A. Emoy
Photo credits: M. Pedrosa and J. Emoy