Research symposium across disciplines: R and D holds 4th virtual conference
Research and Development Center held its annual agency in-house review last September 28-29, 2022 via Zoom platform. The aim is for CPSU personnel to share their research findings with practical application in their respective fields.
Participated by faculty researchers coming from all its ten campuses, a total of 42 completed papers and 19 research proposals were presented during the parallel sessions grouped into two (2) categories. One category was allotted for papers under Governance, Policy Studies, Social Sciences, Arts, Language and GAD Research. The other category was intended for Natural and Biological Sciences / Biodiversity and Conservation Agriculture & Development, Technological & Innovation.
Among the distinguished panel of evaluators were Dr. Venus Saz of Cavite State University, Indang, Cavite; Dr. Leo Andrew Biclar of Capiz State University, Roxas City, Capiz; Dr. Jonathan Perez of the University of Science and Technology of Southern Philippines; Dr. Dennis Madrigal of the University of Negros Occidental – Recoletos; Dr. Alvin Palanog of PhilRice Negros, Murcia, Negros Occidental; and Dr. Ferdinand Bulusan of Batanes State University, Basco, Batanes.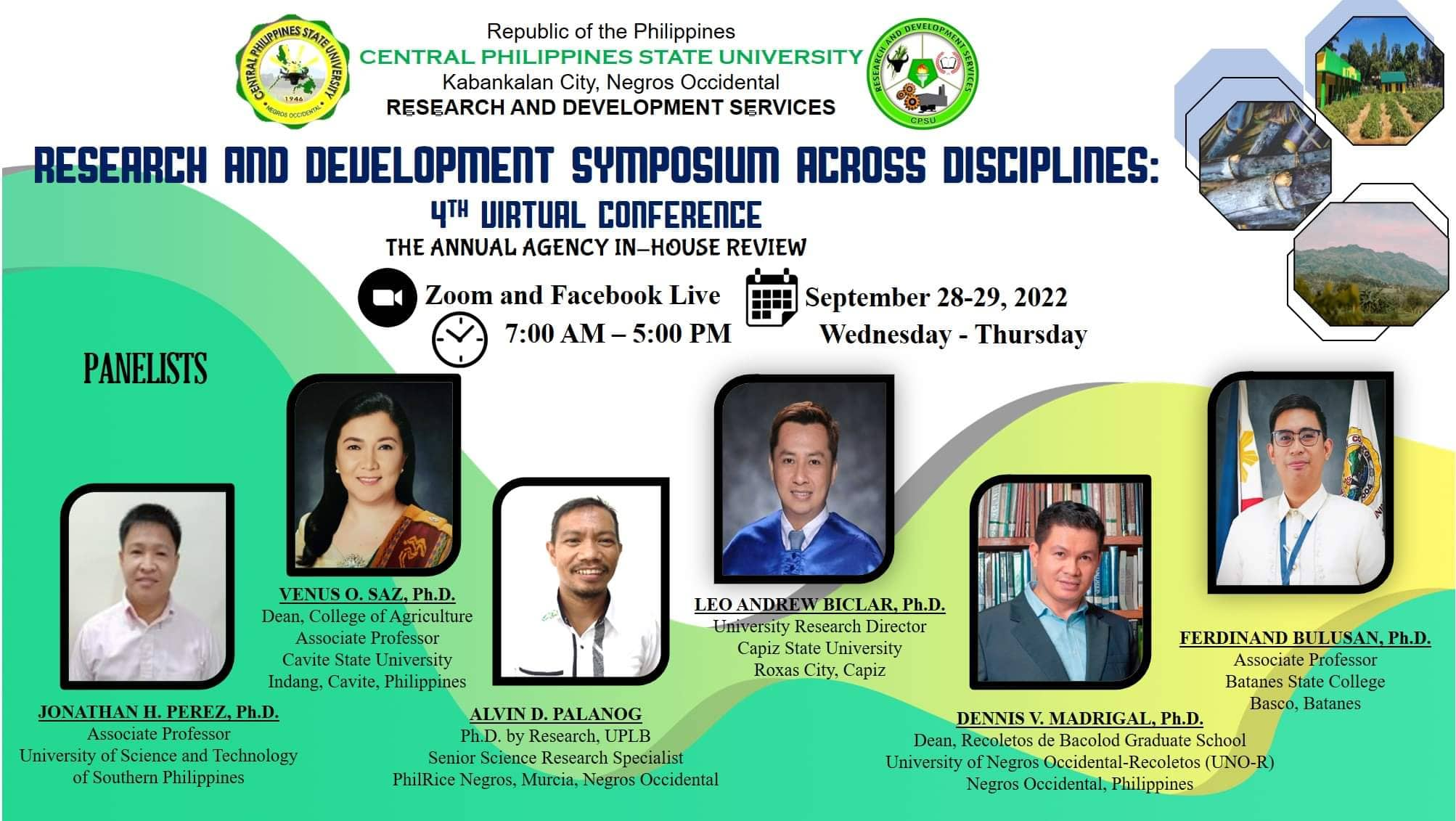 The session speaker for this year's symposium was the very own dean of the College of Arts and Sciences, Dr. Marfy Cabayao, who shared his study, "Panalaysayon sang Balangaw: Mobility, Ecology, and Melancholy in Negrense Queer Oral Autobionarratives."
Dr. Angelie Rose Lumba, R & D director, who spearheaded the activity, expressed her gratefulness to everyone for their participation in the said activity as vital component towards its realization.
Dr. Mae Flor Posadas, Vice-President for Research and Extension, also highlighted the significance of the activity as one of the major functions of the University. She also explained how the activity further accelerates the achievement of the research targets and goals through everyone's participation and support.
Dr. Fernando Abello, Vice-President for Academic Affairs, further encouraged all faculty members to engage in research as one of their accomplishments and salient function being HEI instructors and academicians.
Hence, the event would serve as a channel in strengthening research as one of the core thrusts of the institution.
By: J.A. Emoy
Photo Credits: RDEC