CPSU hails College of Engineering for producing another successful set of licensed engineers
The Central Philippines State University - College of Engineering (CPSU-COE) once again stands proud as new set of successful takers in the Mechanical, Electrical and Agricultural & Bio-systems Engineering examinations were announced by the Professional Regulations Commission (PRC).
Mid-August when the Commission released the list of passers for the Mechanical Engineering (ME) exams held last August 13-14, 2022 and among them were the 12 alumni of the said College. They were Engr. Arlene Q. Amahit, Engr. Mary Rose L. Engr. Neil Jay C. Bayer, Engr. Johnny L. Beato, Jr., Engr. Amadeo John N. Caballero, Engr. Hermi M. Elumba, Engr. Erwin S. Hudith, Engr. Marton Jame D. Nillas, Engr. Mesael K. Ongy, Engr. Cris Anthony A. Patajo, Engr. Austine D. Quibot, and Engr. Raffy Y. Sabanal.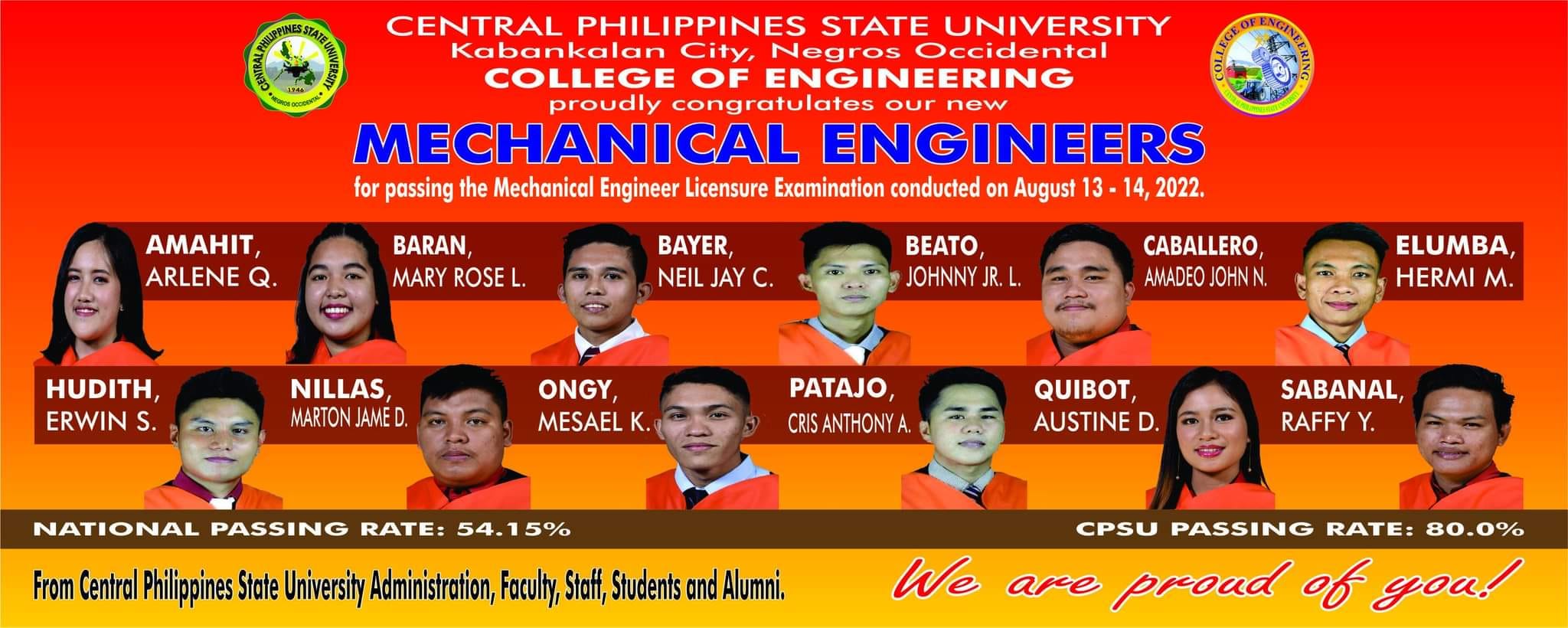 With twelve out of fifteen (12/15) successful takers, the COE- ME department garnered a CPSU passing rate of 80%, and a National Passing Rate of 54.15%.
Also, last September 3-4, 2022 when the licensure exam for Electrical Engineers (EE) was conducted and CPSU once again celebrates with another successful takers, Engr. Leslie L. Esparar and Engr. Grenphyl L. Paclauna, obtaining a National Passing rate of 50.2% and CPSU first-time takers' passing rate of 50%.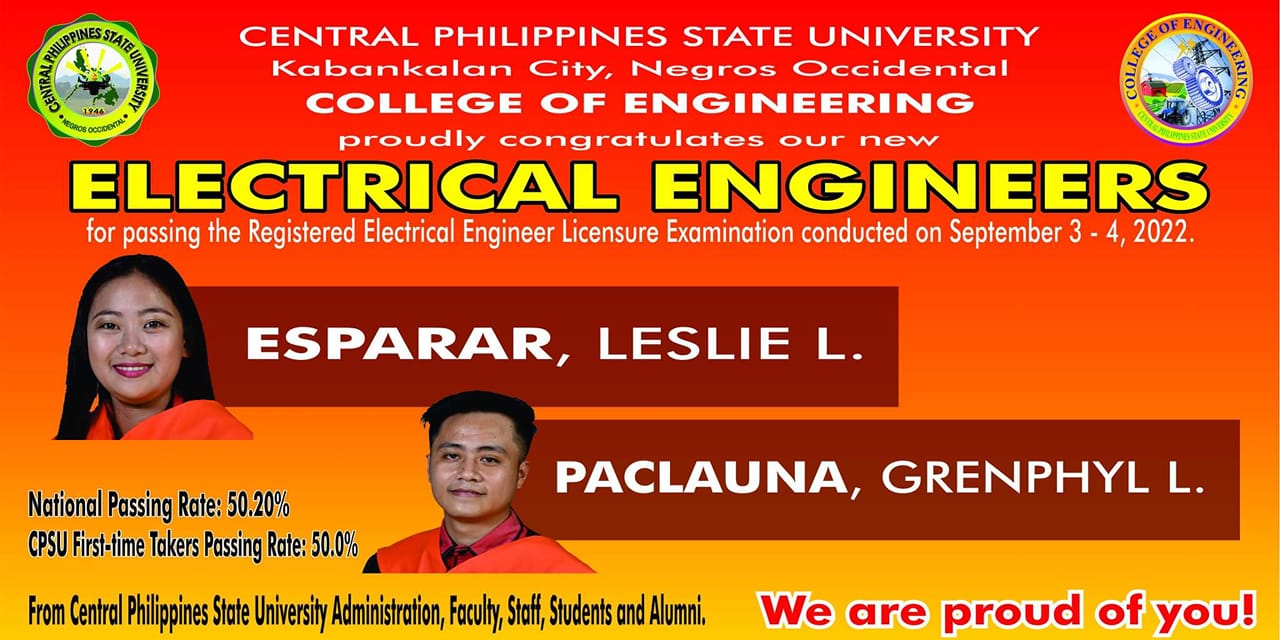 Recently, the Agricultural and Biosystems Engineer (ABE) Licensure Examinations was conducted last September 15-16, 2022 and 10 successful takers once again brought pride to the College. They were Engr. Elijah T. Aseral, Engr. LeoniloB. Candelario, Jr., Engr. Jerome P. Endrina, Engr. Dawn B. Isturis, Engr. Michelle S. Jucal, Engr. Jaren P. Leysa, Engr. Leonard B. Malacapay, Engr. Alyssa D. Oyog, Engr. Micah J. Salgado, and Engr. Angel Grace C. Untal.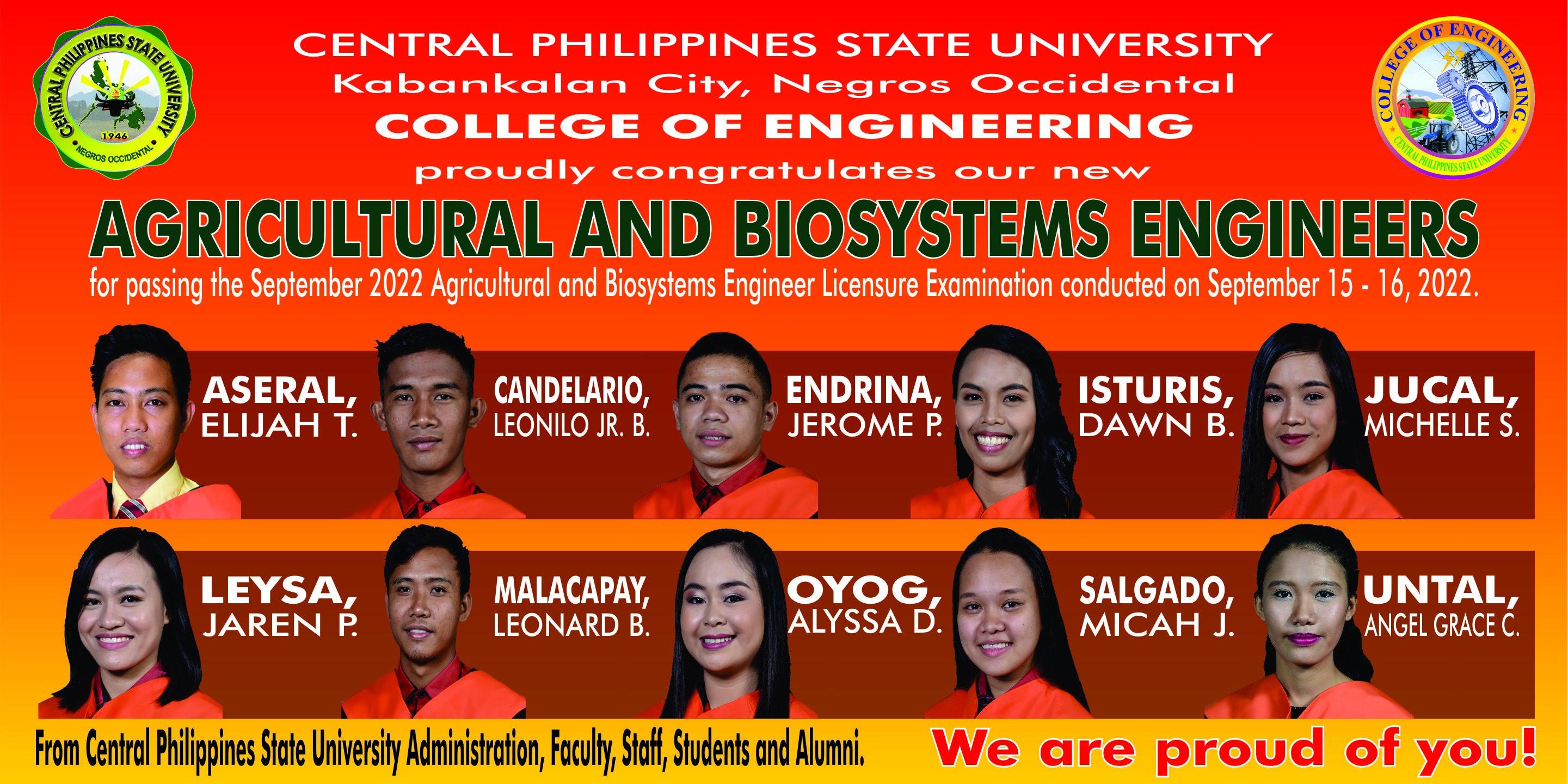 The CPSU academic community and the College of Engineering (COE) celebrate this victory with the students and their proud parents. This success creates significant 'branding' for the College proving that Cenphilian engineers can soar great heights in pursuit for excellence and in bringing pride and honor to their beloved Alma Mater.
CPSU wishes you all the best of luck in your future ventures!
By: J.A.Emoy and J. Belera, BSABE IV
Photo Credits: COE