"Alon ng Buhay": A Workshop for enhancing student leaders' capabilities as peer facilitators and advocates of mental health
Central Philippines State University - Office of Student Services and Affairs (CPSU OSSA) in collaboration with the Gender and Development (GAD) Office, the Counselling and Guidance Office, and the Supreme Student Government (SSG) organized a leadership enhancement program with the theme "Psycho-Spiritual Encounter For CPSU Student Facilitators and Advocates of Mental Health" for student leaders coming from the different recognized organizations in the University including fraternities and sororities, last July 5, 2022 at the Alumni Pavilion, CPSU, Kabankalan City.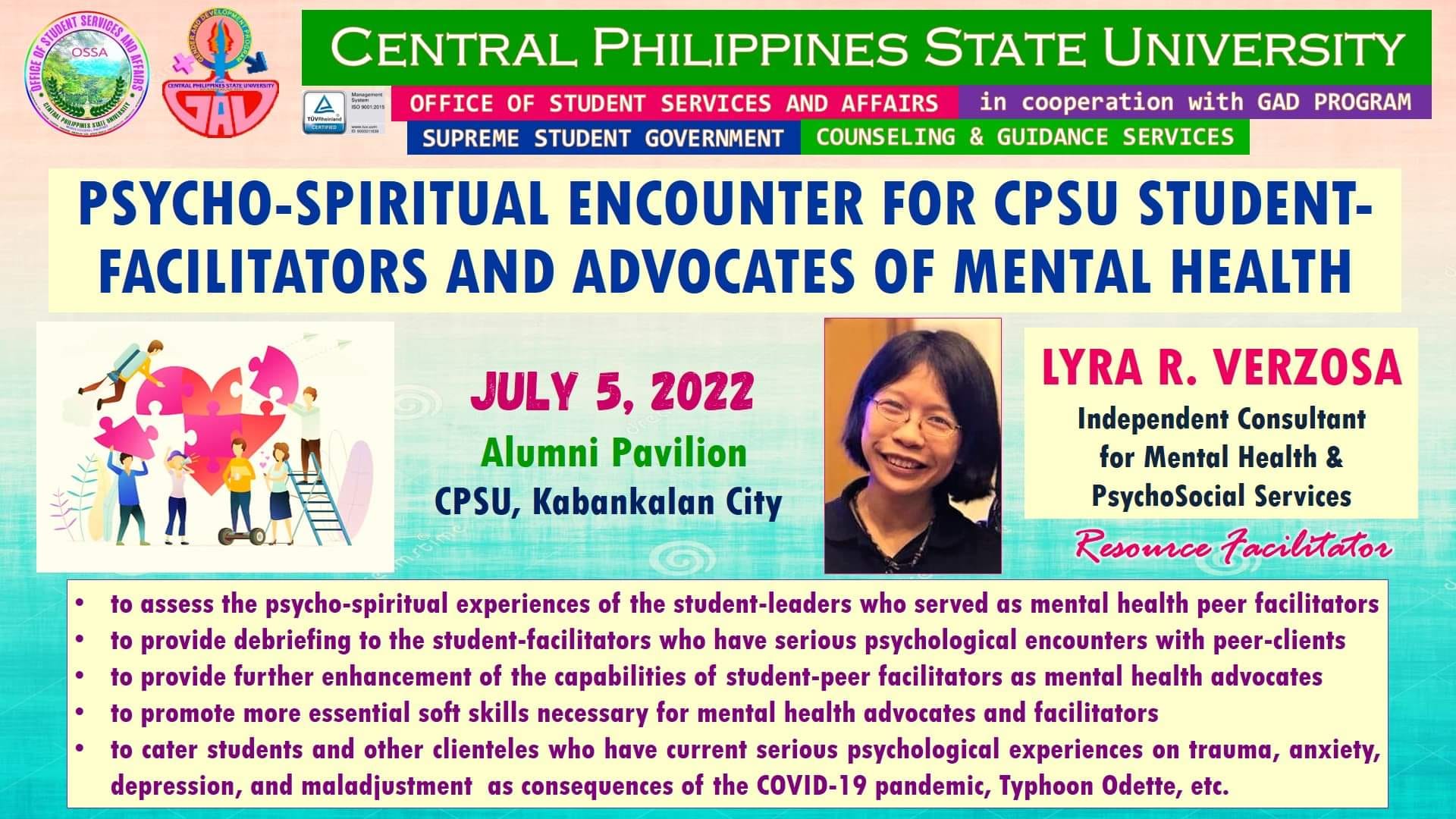 Resource Speaker, Ma'am Lyra R. Verzosa, an Independent Consultant for Mental Health and Psychosocial Services highlighted on the topic, "Alon ng Buhay" in her preliminary talk, which focused on the ups and downs of life. Among the activities she gave were responding to the survey form and pair-sharing about life experiences where each one was expected to share three (3) ups or happy events of life, and the three (3) downs or the lowest points of their lives.
Ma'am Lyra's aim was to guide and assist students and other clientele who have undergone serious psychological experiences on trauma, anxiety, depression, and maladjustment as consequences of the COVID-19 pandemic, typhoon Odette, and other factors affecting their mental health.
Seven (7) of the participants engaged in sentimental and emotional sharing about the different life problems before and during pandemic, during and after Odette, with the series of life problems they had encountered. Ma'am Lyra emphasized the relevance of emotional well-being or emotional intelligence, with which she raised the challenge to the educators as to how they could build the emotional development of the students.
She further spoke on the significance of mental health as "LUSOG BUHAY" not just a plain definition of "Lusog isip" and the center of all was "Lusog spirituality" pertaining to one's connection, and strong faith with God.
"Lusog relasyon, Lusog emotion, Lusog katawan, and Lusog isip" are all interconnected," she said.
Before she ended her talk, Ma'am Lyra asked the student leaders to come up with possible activities to be done on the first day of face-to-face limited class for A.Y. 2022-2023 to tackle lightly about some of the social issues assessing the student leaders' social intelligence.
In response, Miss Loryjean, an engineering student and one of the survivors of typhoon Odette who unfortunately lost her mother and siblings on the said frightful night, shared her life lessons to her fellow attendees.
"Treasure every moment with your family," she said in reminisce of her lost loved ones. Indeed, Loryjean is a realtime story of resilience and hope.
Towards the end of the program, the participants were encouraged to apply all those tactics they've learned from the speaker in facilitating students under emotional distress and related problems in life as the next academic year starts.
OSSA Dean Dr. Pilipinas Ma. D. Jareño, SSG Pres., Hon. Andrelyn Bello, and CPSU Counselling and Guidance Unit personnel were also present during the said workshop.
By: J. Belera, BSABE 3