"Partnerships to strengthen education in the region": CPSU and DEPEd Kabankalan and Himamaylan ink agreement for School Heads Academy
Driven with the aim of upskilling and advancing pedagogic and leadership competencies of academic personnel to respond effectively in the fast-changing demands of the educational system in the country, the Department of Education (DepEd) Region VI launched the implementation of the "Sulong Edukalidad" program through the School Heads Academy (SHA).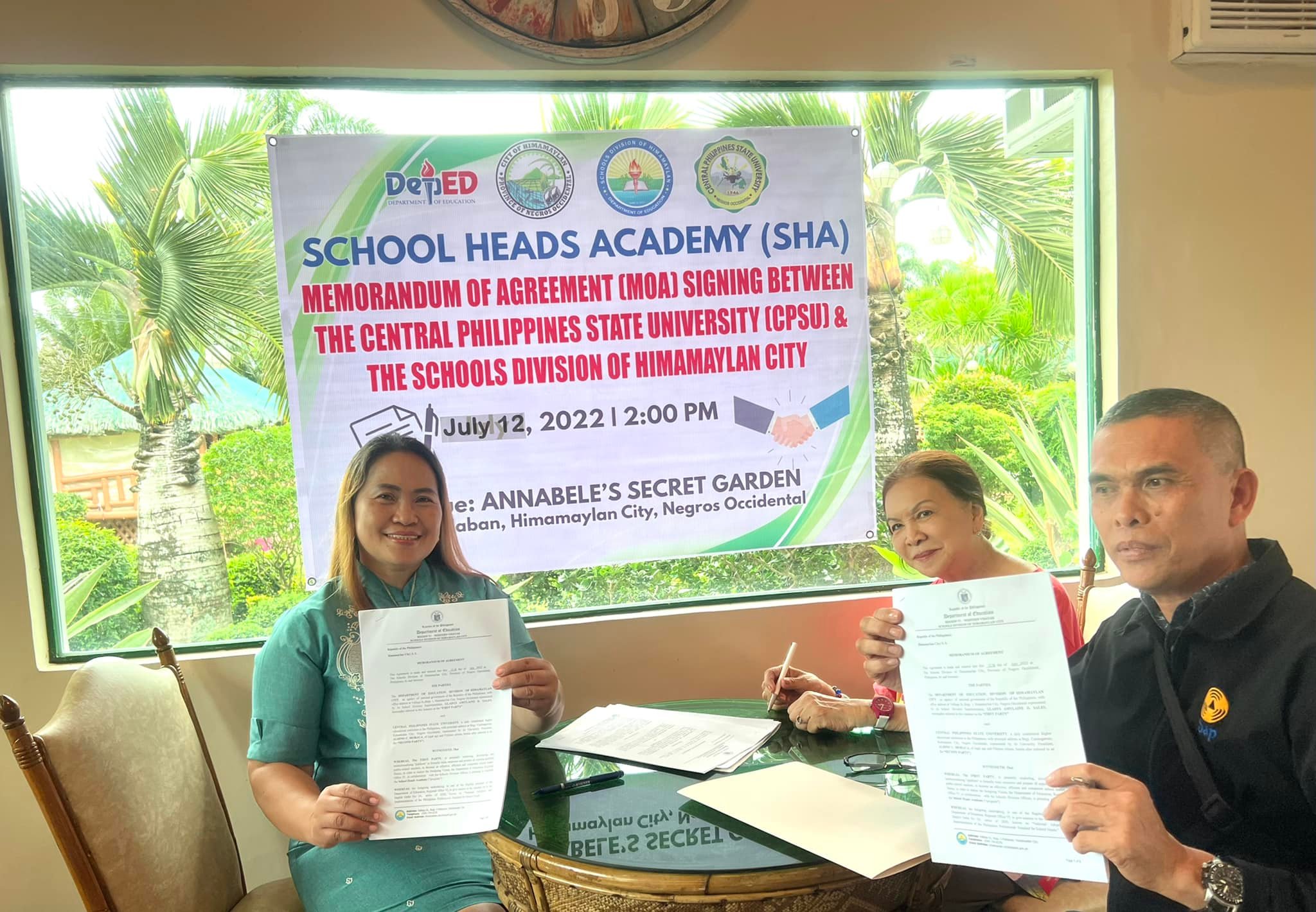 Moving towards its immediate realization, DepEd Kabankalan and Himamaylan formally inked partnership with Central Philippines State University (CPSU) last June 22, 2022, and July 12, 2022, respectively.
This transpired after having identified CPSU as their partner SUC/HEI to deliver the SHA services for their teachers' professional development through the University's Graduate School Programs in the Masterate and Doctorate degrees, in which the said proposal was extensively discussed during their Convergence Meeting with the University held last July 15, 2021 at the Accreditation Center, CPSU Main Campus.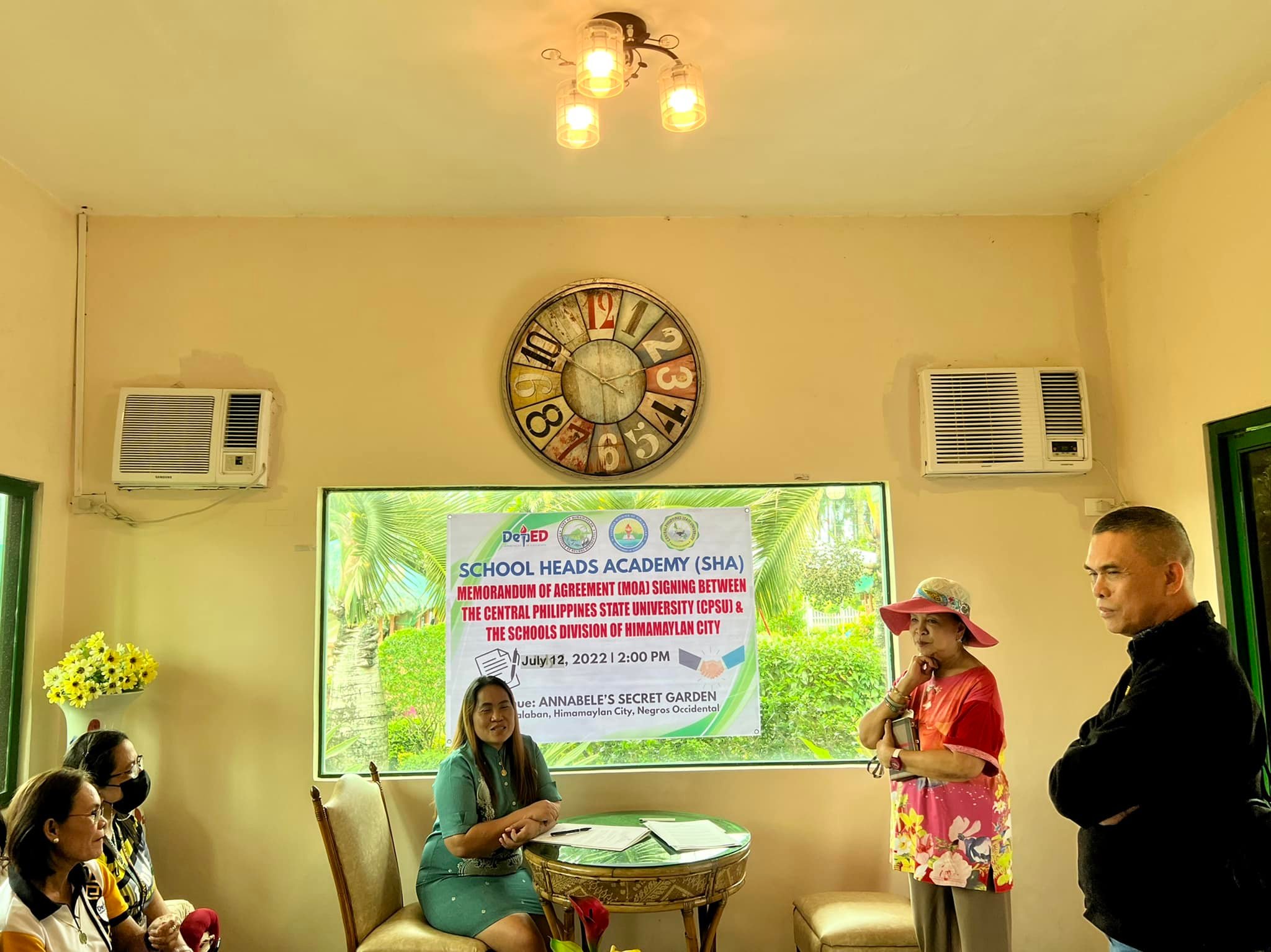 Present during the ceremonial tripartite MOA signing for School Heads Academy (SHA) between CPSU and DepEd Kabankalan were Dr. Lea Belleza OIC- Assistant Schools Division Superintendent, Nicasio Frio, CESO VI OIC- Schools Division Superintendent, and Kabankalan City Mayor Hon. Pedro Zayco, Jr., among others. Also representing CPSU were VP for Academic Affairs Dr. Fernando D. Abello, and Quality Assurance Director Dr. Grenny Jungco.
The recent MOA signing for SHA was between DepEd Himamaylan represented by their OIC-SGOD Chief ES Marilyn Galvez, OIC-CID Chief ES Grace Nicavera, SocMob SEPS Macky Matutina, HRD SEPS Jocelyn Barnuevo, SocMob EPSII Yanna Abarquez, HRD EPSII Francis Drake Tamba.
Meanwhile, representatives from CPSU were VP for Academic Affairs Dr. Fernando D. Abello, Graduate School Dean Dr. Riza Stephanie Abada-Alfaras, Quality Assurance Director Dr. Grenny Jungco, College of Criminal Justice Education Dean Sir Corold Romano, and University Statistician Dr. Michael M. Bacolod.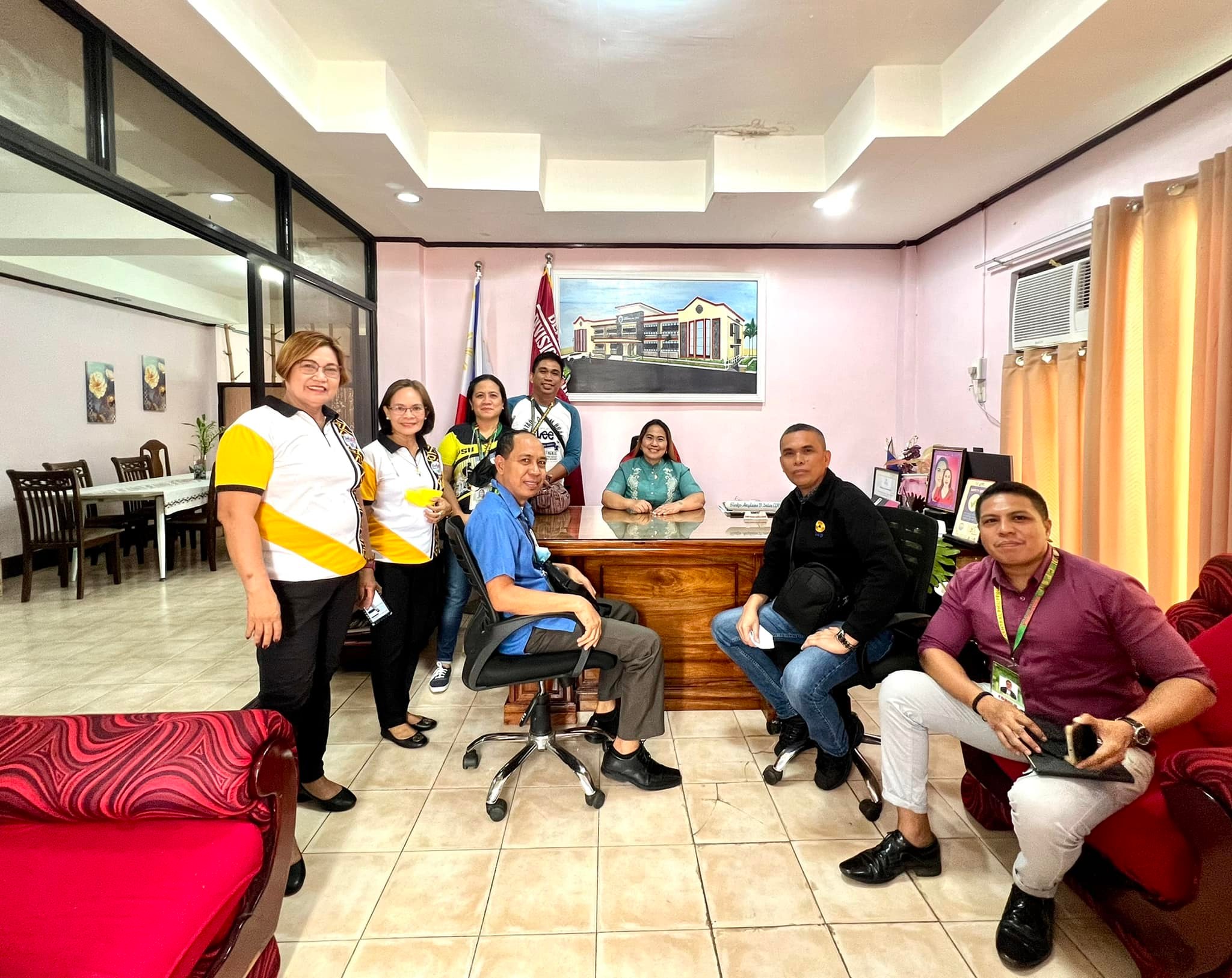 Dr. Abello, lauded this initiative of DepEd and expressed his strong support to the group and for trusting the quality of advanced education that CPSU has been providing to its students and clienteles. He further stated that such partnership will strengthen education in the region.
Hence, equipped with skills to be global educators, this collaboration of CPSU with DepEd is anticipated to lead towards innovation, creativity and a wealth of knowledge to uplift the country's educational banner.
By: J.A. Emoy
Source and Photo credits: F. Abello & G.A. Dechavez Sales, DEPEd Himamaylan