CPSU CAF holds its fourth Farmers' Field School (FFS) Graduation
The Central Philippines State University (CPSU) through the College of Agriculture and forestry (CAF) continues to extends agri-training, known as the Farmers' Field School (FFS), to small-holder farmers in the community as part of its rural socio-economic development initiatives. This activity is hinged on sustainable skill-investment for improved farm inputs through practical and climate-suitable techniques to help farmers augment their harvests, while also managing the health of their land.
Last May 4, 2022, a graduation ceremony was held for its fourth batch of farmer trainees in the "Season-long Training in Organic Crops and Livestock Production" held at Mt. Ballo Hall, CPSU - Main Campus, Kabankalan City.
They were the 31 members of the CALTPTFA or Camingawan, Lomboy, Pinamus-an, Tamlay Farmers' Association, who benefited from the said training on Organic Crops and Livestock Production, which spanned for 16 weeks, beginning in the month of November 2021 until this month (May 2022) at Purok Pinamus-an, Brgy. Camingawan, Kabankalan City, Negros Occidental.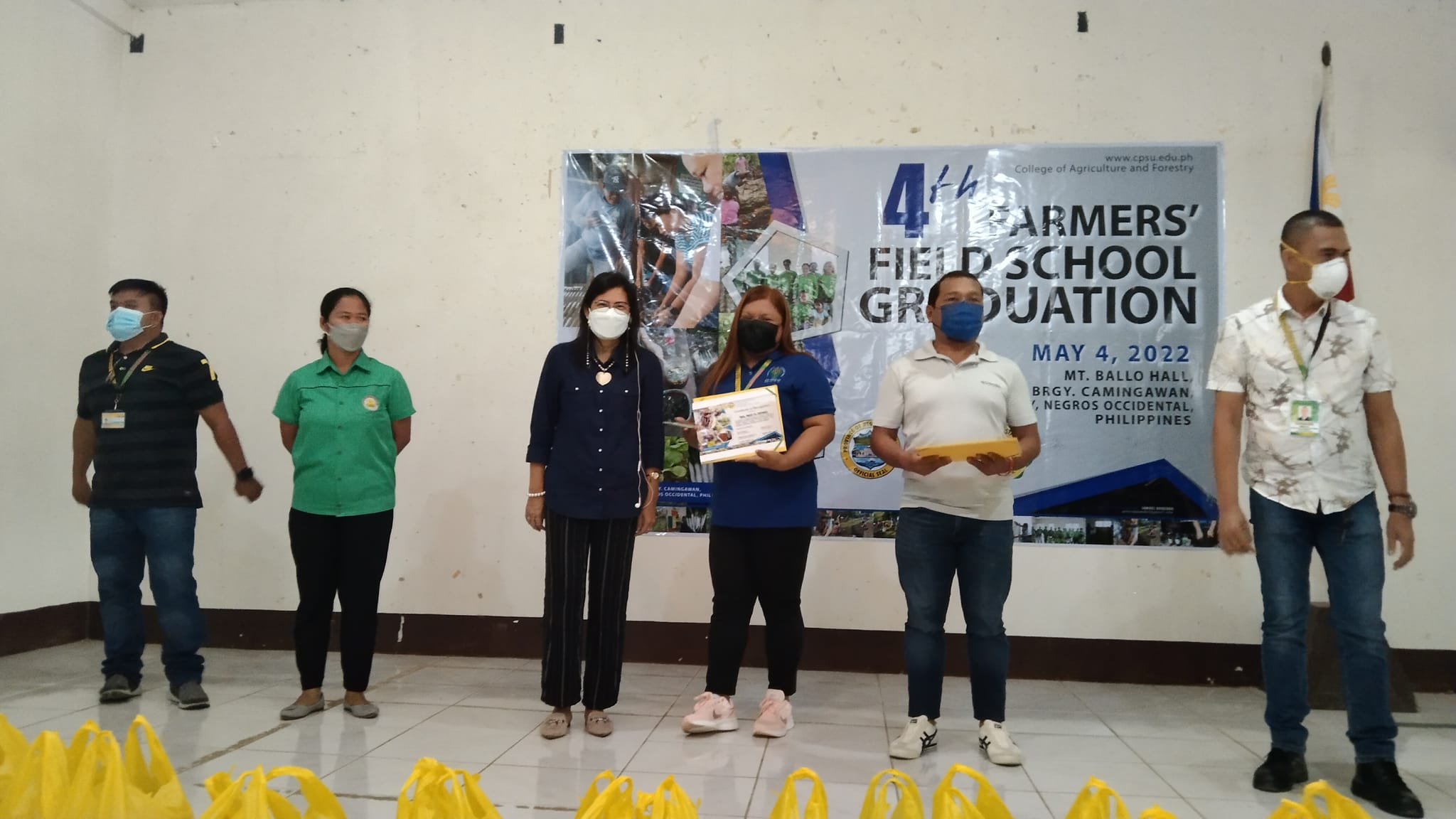 Attending the said event were VP for Research and Extension Dr. Mae Flor Posadas, VP for Academic Affairs Dr. Fernando Abello, Director for Extension and Community Services Dr. Jimmy Degillo, CAF Dean dr. Roland Marcel Bachiller, Director for Production and Enterprise Development and CAF Extension Coordinator Maam Maryvic Pedrosa, along with the rest of the CAF faculty facilitators.
By: K. Suniega (ABEL 4) & J.A. Emoy
Photo credits: J. Degillo and M. Pedrosa