Cahilig, Candido and Villo secure spots in the PSABE National Convention
The Philippine Society of Agricultural and Biosystems Engineers Pre-Professional Group (PSABE-PPG) CPSU Student Chapter lauds winners during the 71st PSABE Annual National Convention, 18th International Agricultural Engineering Conference, 33rd Philippine Agricultural Engineering Week and 8th ASEAN Agricultural Engineering Annual
Regional Convention held last April 25-27, 2022 via virtual platforms.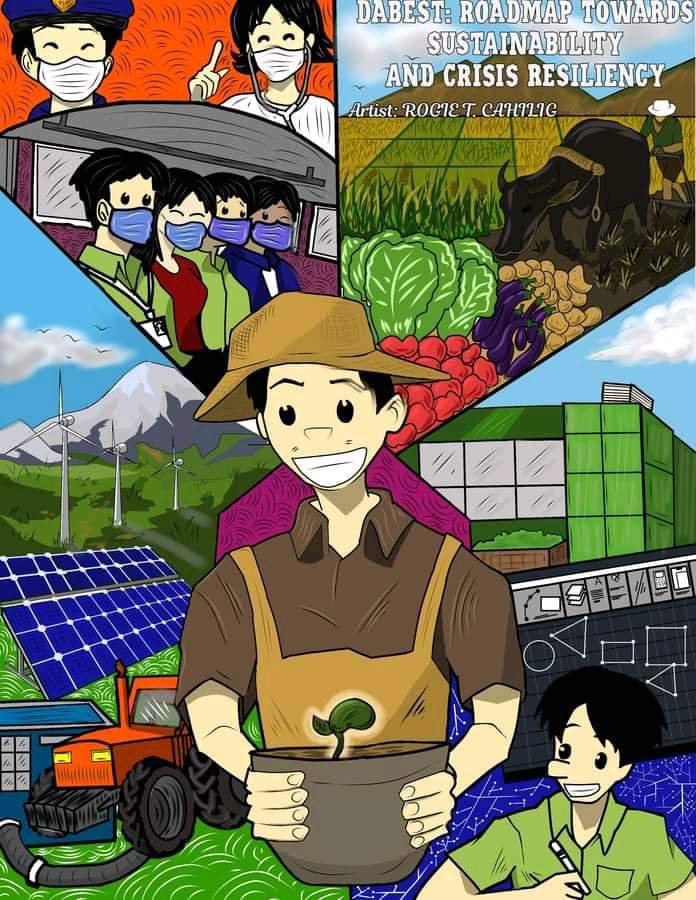 With the theme "Transforming ABE Technologies for Adequate and Sustainable Advancement in Crisis Situation," Cenphilians once again brought fame to the University as they garnered awards in various contests.
Securing the 4th place in Digital Poster Making is Rogie T. Cahilig, BSABE 2; also 4th place in Tractor Parts Identification is Vhea Denise Candido, BSABE 3; and Best in Advocacy in Mr. & Ms. PSABE-PPG is Ed Jay Villo, BSABE 2. Celebrating with them are Engr. Jolly Coronado, org. adviser, and Frij Bimbao, BSABE 3, org. president, along with the rest of the CPSU College of Engineering.
The Convention served as a platform where delegates from ASEAN countries such as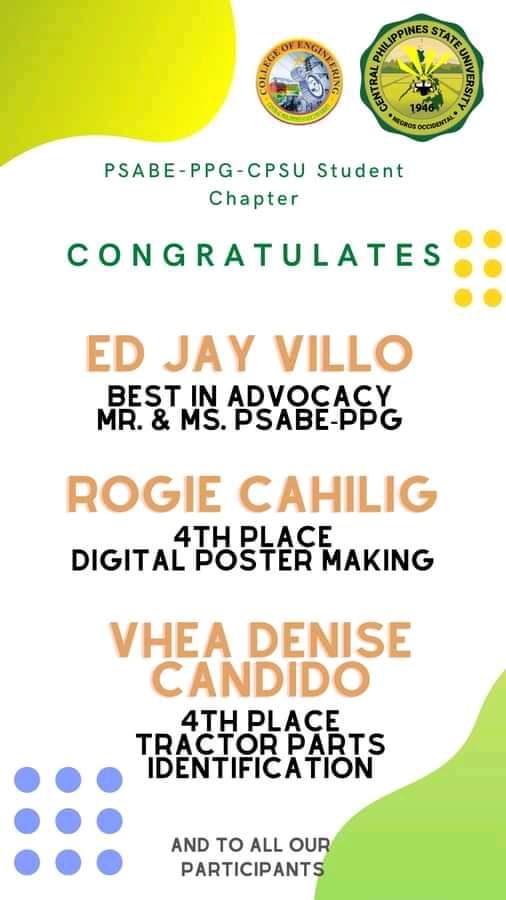 Philippines, Malaysia, Indonesia, Thailand and Brunei, especially those specializing in Agricultural and Biosystems Engineering and Agricultural Engineering and Technology, engaged in online friendly competitions such as Technical Paper Presentation, Cultural Presentation, Quiz Bee, Tractor Parts Identification, Rice Combine Harvester Parts Identification, Poster Making, Essay Writing, and Photography Contest.
Also, delegates from professional and pre-professional groups engaged in conference, exhibits, technology demonstrations, plenary and technical paper presentations on the development and trends
in transforming agricultural technologies for adequate and sustainable advancement during crisis situations.
By A.F. Gako, BSABE 4A, The Cenphilian EIC
photos: PSABE PPG CPSU Chapter