CPSU commends newly registered Foresters
Moving towards the achievement of the University's goal as a higher learning institution to lead in the local and national development through producing highly qualified professionals, CPSU commends the two (2) newly registered Foresters from the College of Agriculture and Forestry for passing the Forestry Licensure Examination held last October 20-21, 2021 in Iloilo City.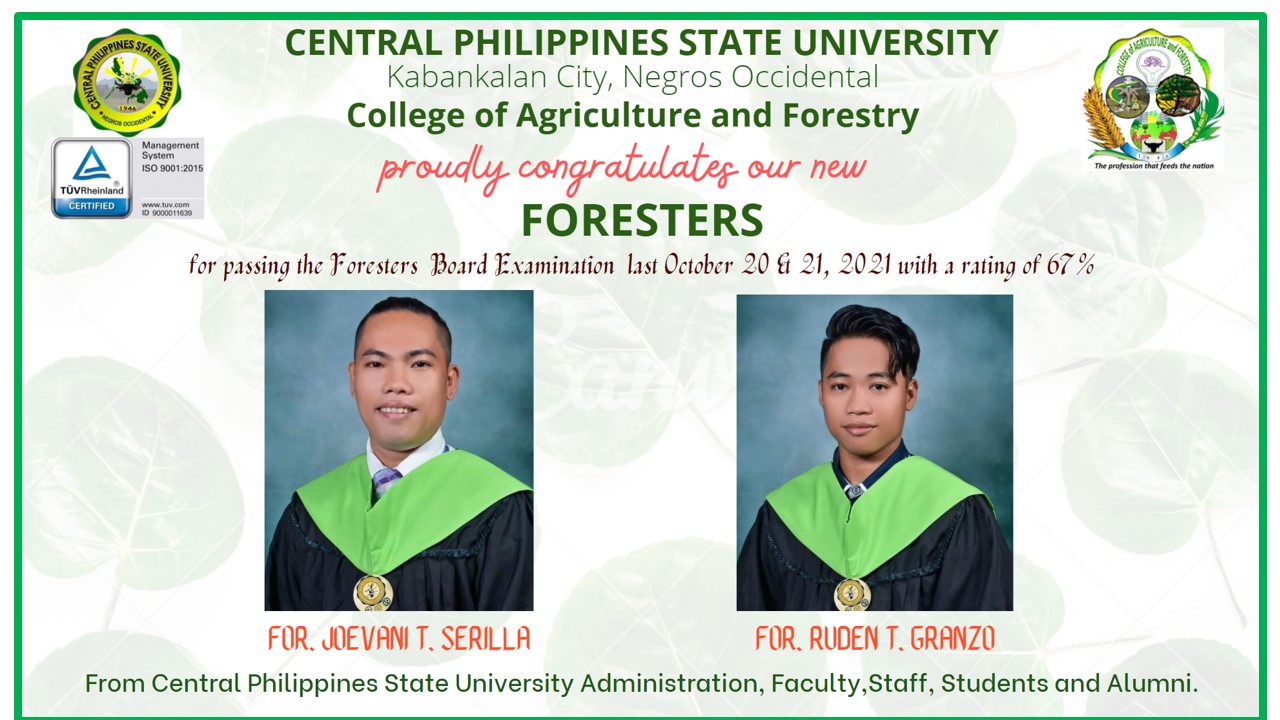 With a passing rate of 66.67%, For. Ruden Tacsagon Granzo and For. Joevani Taberos Serilla, succeeded in their goal together with the 443 out of the 761 takers. The said result was released by the Professional Regulations Commission (PRC) last October 25, 2021.
In response, For. Dominic L. Billen, MPA, MSF, the CPSU Forestry Program Head, lauded the commitment, dedication and perseverance of the two students, as well as the CPSU system by exploring what is best for the learners, for their future and for the University as a whole.
"Congratulations and welcome to the Society of Filipino Foresters. New chapter, new challenges and whatever lies ahead of you, just always remember that wherever you are and whatever you do, the values that CPSU has taught you together with the foresters code of ethics will guide you and bring you to a success. Go, explore and bring the title in your name forever, and before you do it, seek God's presence first before anything else. God bless you always." For. Billen stated. He likewise reminded them to always look back to the cradle of CPSU.
He further addressed the aspiring Foresters saying, "Being smart is good, but stored knowledge is the best weapon to pass the board exam. And this weapon can be acquired by continuous readings, coupled with constant reviewing and researching to further deepen your understanding. You have to invest knowledge as early as possible, there's a lot more of time for you to prepare. Don't be afraid, we the faculty of the College of Agriculture and Forestry are doing our best to give you what is best for you. But we need you to cooperate and do your obligation as students and future Foresters. Future foresters, study well, enjoy your student life and manage your time wisely."
By: A. Gako, BSABE IV - The Cenphilian Publication