CPSU holds inception ceremony for CHED EDUTOURISM program
In response to the call of the Commission on Higher Education (CHED) to promote Philippines as an edutourism hub, Central Philippines State University through its Research and Development Unit headed by Dr. Angelie Rose Lumba organized a convergence program on "Resource Utilization for TechEd and Community-Based Tourism Enhancement in CPSU Reservation Areas and Extension Campuses" last March 10, 2021 at Mt. Ballo Hall, CPSU - Main Campus, Kabankalan City, Negros Occidental.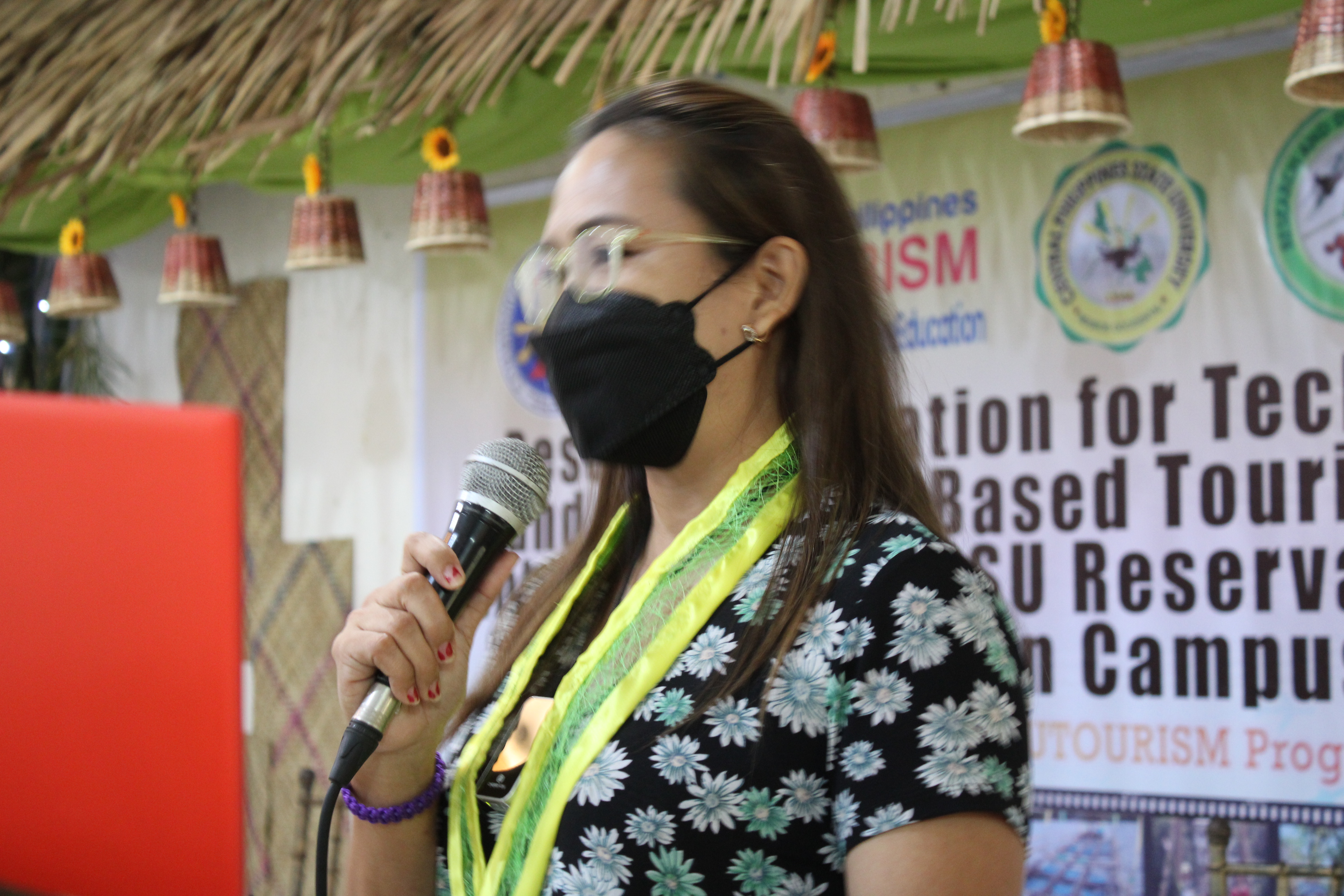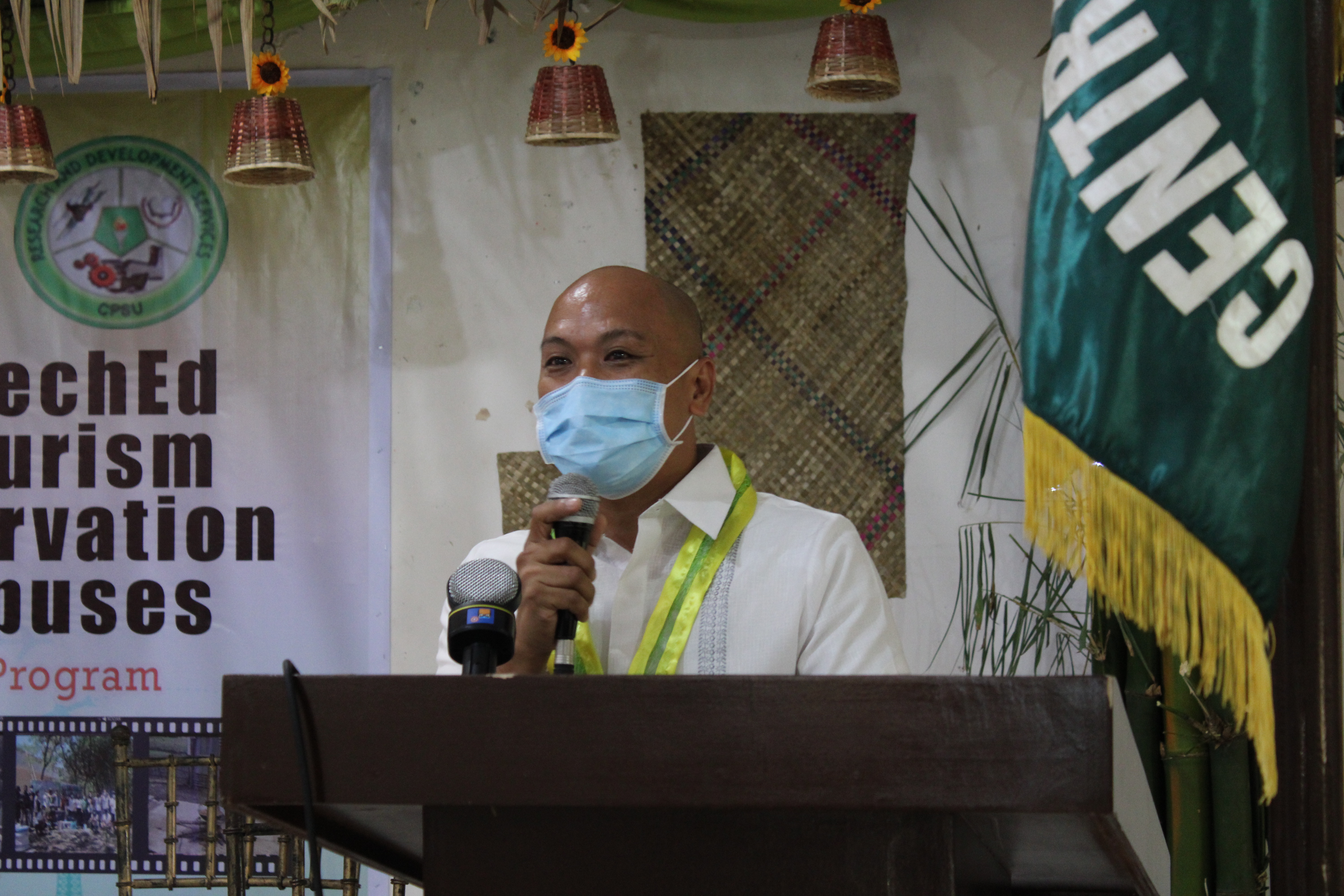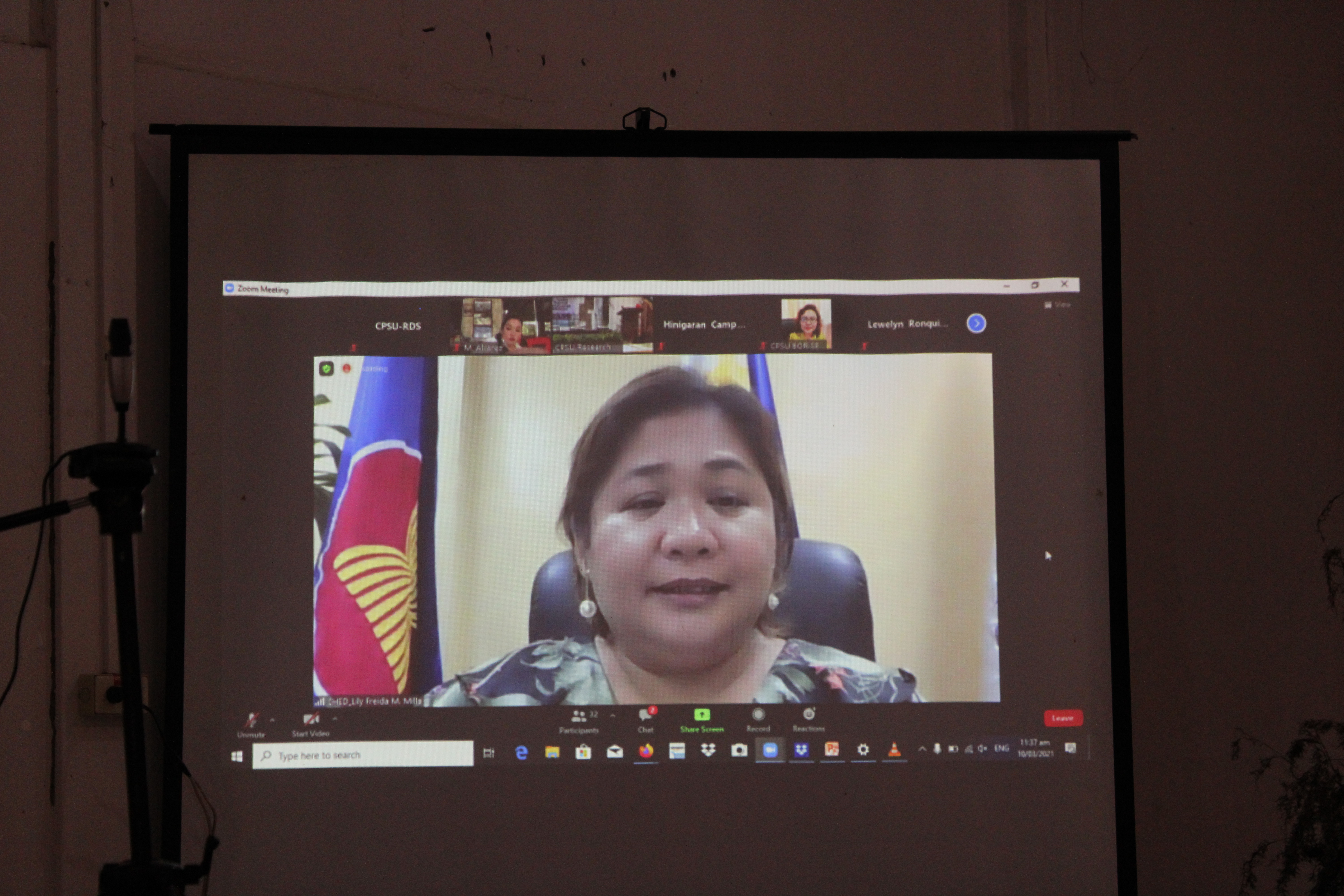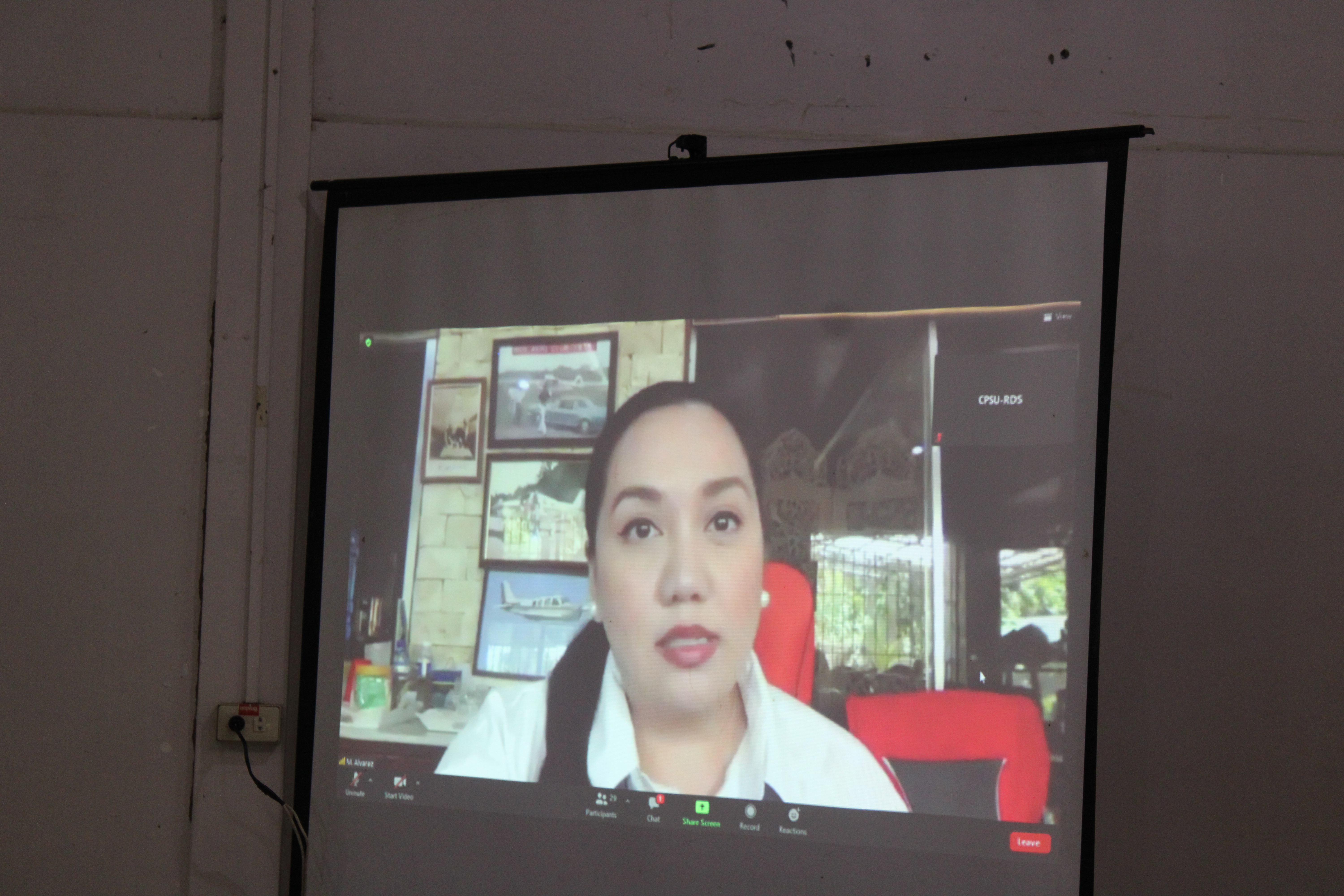 One of the main goals of the said project is aimed at building a community-based tourism that showcases unique, laudable and exceptional technologies, practices, developments, including research-based projects and innovations of the University throughout its extension campuses. It also highlights the promotion of culture, history and tourism in the local community as it partners with LGUs.
VP for Research and Extension Dr. Mae Flor Posadas stated that the convergence of various groups from the academe, local tourism offices of the local government units (LGUs), the Province of Negros Occidental, the Commission in Higher Education (CHED), the industry and the community marks a symbol of unity and collaboration of the experts to join force and make a change in the University to bring development not just to the institution but also to the lives of the people in this part of the country.
"We join together to implement projects all geared towards promoting education and internationalization with a twist of tourism as a campaign to strengthen education in the country. Today, we come together pulling our minds, skills and resources to strategize how to properly implement and successfully develop a very promising project," Dr. Posadas said.
Kabankalan City SP member Hon. Jerzy Guanzon representing the honorable Mayor Pedro Zayco, Jr., stated that this Edutourism project is another accomplishment of CPSU that will help preserve and promote the natural bounty of the community as well as in its extension campuses. This will also open a wide array of opportunities to boost the economy of the LGU in the City of Kabankalan including the other LGUs in its extension campuses.He also pledged full commitment to help in the success of this project.
Atty. Mercedes Alvarez-Lansang, member of the CPSU Board of Regents and the former congresswoman of the 6th district of Negros Occidental, virtually expressed her congratulations to CPSU for promoting edutourism in the institution and hoped that the program will also provide significant impact to the community most especially on sustainability.
"It is but worthy that we in the education sector strengthen edutourism because it will not only enhance research, and knowledge-sharing skills, but it can also bring industry and protection to the community. Aside from the beautiful sites and surroundings of our campuses, I hope that this program will also promote the rich history, and culture of its people," Atty. Alvarez added.
Atty. Lily Freida Milla, OIC, deputy executive director, and International Affairs Staff (IAS) director virtually gave an overview of the edutourism project. She stated that the education tourism program also known as "study in the Philippines" program of CHED in collaboration with the Department of Tourism aims to create sustainable development through building community-based tourism.
"The Philippine edutourism framework focuses on four areas, Philippines as Education Hub through partnerships and regional collaboration, Inclusive and Sustainable Development, Indigenization and Heritage, and Economic Opportunities. In promoting this program, we need to ensure that we are able to compete with both local and international universities by providing short-term programs, internships, immersions and exchanges. We don't only promote our practices in education but also our local culture and heritage," Atty Milla explained.
In the video presentation of CPSU agritourism hub, each campus showcased some of the distinct projects and technologies they have generated. The Main campus exhibited their Muscovado and Rainforest coffee production, vermiculture technology and Green Tech Eco park; for San Carlos Campus, their banana and potato plantation, green flour machine and solar pumping machine; for Victorias Campus, their organically grown vegetable, blue ternate production, solar-powered sprayer pump, poultry production and citronella production; for Moises Padilla Campus, their green volcano sweet potato production, citrus plants, miracle fruits and sweet potato flour; for Ilog Campus, their Blue Swimming Crab hatchery research project; for Cauayan Campus, their bamboo cuttings and bamboo plantation for their upcoming bamboo terraces tourism project; for Candoni Campus, their pineapple plantation; for Sipalay Campus, their "balut" production; and for Hinobaan Campus, their coconut orchard and oyster mushroom production.
Local and and international partners likewise expressed their commitment to the University as partners in the implementation of the project.
Municipality of Cauayan Vice - Mayor Hon. Analisa Tabujara-Soriano stated that students also need to venture different wings of education, and that the inception of this edutourism is a huge help for the tourism industry to regain its pedestal after being heavily affected by the effect of the pandemic.
"Currently, the Municipality of Cauayan is working towards the realization of its Bamboo Terraces as a tourism spot in our locality," Hon. Soriano said.
Municipality of Hinobaan SB member and tourism officer Hon. Jose Robert Gayumali representing Hon. Mayor Ernesto Estrao, expressed sincere thanks for being partners with CPSU in the said venture. He further stated that this initiative is in convergence with the goal of their Municipality which is also centered on agritourism.
"When before agriculture is merely about growing food, now agriculture is part of everyone's lives. Thus, agritourism goes beyond food production, but likewise revenue generation," Mayor Estrao stated through Hon. Gayumali.
Secretary to the Sangguniang Bayan of the Municipality of Candoni Sir Benjie Orot, also shared their fervent support to all the undertakings initiated by CPSU. Candoni also indulged in agri-tourism to help farmers and students in terms of livelihood generation. He further acknowledged the significance of the University's extension campus in their locality as one of their partners playing a vital role in the development of their LGU.
CPSU's international partner, the Kansas State University (KSU) through Dr. Manuel "Manny" Reyes, the SIIL coordinator of excellence on sustainable agricultural intensification and nutrition in Cambodia, expressed his commendation to CPSU for the noble initiative that could do a lot of good to the community of CPSU and to Negros.
"CPSU Edutourism will bring to its visitors the new agriculture called Regenerative Agriculture (RA) or Conservation Agriculture (CA) for sustainable intensification that does not require tillage. This is a solution to climate crisis as it returns carbon dioxide back to the soil," Dr. Reyes said.
He further stated that their partnership with CPSU has created several initiatives in line with Regenerative Agriculture. First of which are the experiments in participation with farmers and multiple stakeholders to demonstrate how RA works. Second is the open-systems agricultural machinery manufacturing on Regenerative Agriculture.
"Simply, we will manufacture machines made in Negros industrializing the Negros countryside in partnership with RU foundry and machine shop (RUFMS). In anticipation, the RUMFS in collaboration with CPSU will manufacture the first-ever made in the Philippines four-wheeled tractor," Dr. Reyes explained.
"The third initiative is the Go Native Philippines app that helps farmers sell their RA products using smartphones and computers. And finally, CPSU is partnering with the Southeast Asia Regional Center for Graduate Studies and Research for Agriculture which will help its students to learn about Regenerative Agriculture as integrated in the curriculum in CPSU. CPSU edutourism visitors can witness all these initiatives of CPSU in partnership with KSU. Give us five years," he added.
VP for Admin and Finance, Dr. Marc Alexei Caesar Badajos, stated that this project is truly both a challenging and promising opportunity for CPSU since among the State Colleges and Universities in Region VI, only six were identified by CHED as Edutourism hub, and one of those is CPSU.
He further stated that hearing the words of support from LGUs, this endeavor is truly a result of collaboration of various agencies who have signified their commitment to be partners with CPSU in this endeavor for, without them, this project could not move on.
"In the process of realizing this project, what the President [Dr. Aladino Moraca] is trying to direct us all is that, CPSU is not just in the main campus, but CPSU can now be found all over Negros Occidental. We make our presence felt through the programs that we provide and extend to the community. We stand high and become proud of what our University is achieving right now. Whichever campus we are located, we become proud of bearing the name of CPSU," Dr. Badajos emphasized.
As CHED Commissioner J. Prospero De Vera III said in the CHED edutourism video campaign, everyone should work together in boosting the tourism industry once again through education, "Tara na, byahe tayo para sa edukasyon!"
Also present to witness the event were Kabankalan City Information and Tourism Officer Ms. Jake Carlyne Gonzales, Sipalay City Tourism Officer Jerick Lacson who joined via Zoom conferencing, Camingawan Brgy. Captain Hon. Rico Regalia, CPSU Board Secretary Nelly Cabual, along with other CPSU officials, campus administrators, faculty and staff.
By J.A. Emoy
Photo credits: F. Emoy