College of Business and Management Student Society holds its 3rd CBM summit
With the aim of further honing the knowledge and skills of the country's future hoteliers and restaurateurs in their chosen field, the College of Business and Management Student Society of Central Philippines State University (CPSU) virtually held their 3rd Annual CBM Summit last March 5, 2021, through a zoom conference with the theme, "Shaping the Tourism and Hospitality Sectors for 2021 and Beyond".
Attendees were both students and faculty members coming from Mindanao State University - Illigan Institute of Technology, Negros Oriental State University, and CPSU extension campuses, namely San Carlos, Hinigaran, Sipalay, and Main Campus whose areas of specialization were Bachelor of Science in Hospitality Management and Bachelor of Science in Tourism Management courses.
The activity specifically aimed to inculcate to the participants timely and relevant information relating to their field of discipline from the inputs shared by the invited pool of high-caliber industry practitioners in the fields of business, tourism, and hospitality industry.
CBM Dean, Sheila A. Ignacio, welcomed all attendees and extended her words of appreciation to the organizers in nailing it for the third time considering the limited resources at hand due to the pandemic. She likewise thanked everyone who showed earnest willingness to participate in the said event all for the purpose of gaining new knowledge, updates, trends and linkages in the business and management industry.
Nelly Nita Dillera, Executive Director of DTI Philippines-Trade Training Center, particularly discussed the topic on "Pivoting Business: A Post COVID Approach". She emphasized on the importance of training in advancing one's skills and competency.
"Through this activity, the training center will be able to reach more engagements and offer its programs to MSME'S who are newbies in the business world," Dillera added.
Mr. Mikhail Camacho, former Business Development Director of Shangri-La Hotel Makati, further discussed the topic on "Hotel Strategies to Fast-Track Recovery for 2021 and Beyond". He cited salient points and effective post-COVID hotel strategies being adapted by several luxurious and internationally renowned hotels.
More to this, Mr. Teody Espallardo, Director of Sales and Marketing of Alta-Briza Resort Boracay, discussed the same topic on hotel strategies and gave a bird's eye view as to the current status of the Island of Boracay in terms of tourist resurgence and hotel coping mechanisms that made them afloat despite the hardships that the industry is currently facing.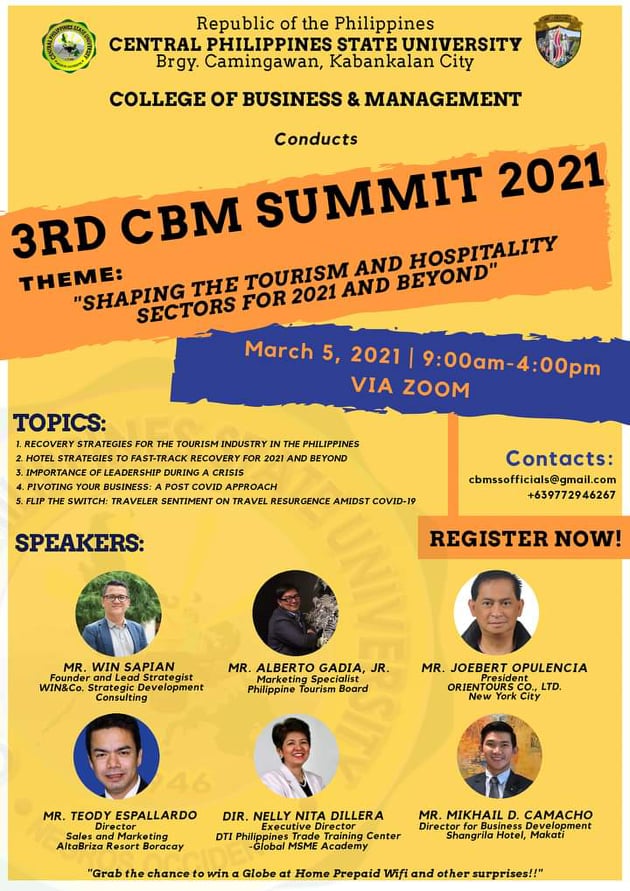 Mr. Win Sapian, Lead Strategist of Win&Co Strategic Development Consulting, likewise discussed the topic on the "Importance of Leadership during a Crisis". He specifically presented various characteristics of a true-blooded leader and encouraged all the participants to galvanize and equip themselves with the right attitude to invite positivity.During the afternoon session, Mr. Joebert Opulencia, President of Orient Tours who is currently based in New York City, discussed the topic on "Traveler's Sentiment on Travel Resurgence amidst COVID 19". He pointed out several practices that the western countries are practicing to punch and eliminate the threat of COVID 19 and created a comparative analysis on how Asian and western countries deal with the health emergency situations in their company.
To end the afternoon session, Mr. Alberto Gadia, Jr., Marketing Specialist of Philippine Tourism Board, discussed the topic on "Recovery Strategies for the Tourism Industry in the Philippines". He strongly implied the importance of tourism in the economy of the country and how it helps the local community of the host place in terms of employment and livelihood.
Freebies were also given to the most active participant. Ms. Vivian Ramos won a Globe at Home Prepaid Wifi and a discount coupon in courtesy of CopyXSpace Coworking - Kabankalan for her active participation and interaction during the open forum.
Meanwhile, CBM Dean, Sheila A. Ignacio, concluded the event with high spirits and reiterated that through this activity, everyone can build a more conducive hospitality and tourism convergence and partnerships.
"We are heartily extending our sincerest appreciation to all the faculty members and students who attended this virtual activity across the Visayan and Mindanao regions. Thus, we are looking forward in seeing you all in our future activities". Dean Ignacio added.
This event is one of the most highlighted annual activities of the College where all the participants are being afforded with the opportunities to learn new trends in the hospitality and tourism sector.
Also present during the virtual conference were Ms.Donnavic Dumapias, Program Chair of the College of Hospitality and Tourism Management of Mindanao State University-Illigan Institute of Technology, Ms. Divina Bulay, Program Chair of the College of Tourism Management of NORSU-Mabinay Campus, Sir Ronie Bautista, Ms. Lewelyn P. Ronquillo, Ms. Charity A. Vergara, Ms. Maryflor Abella, Dr. Ronaldo Oñate and Ms. Kim Alfaras of CPSU, along with other faculty members of the College of Business and Management .
By Reymund Titong, BHSM III & J.A. Emoy