CPSU and DAR Negros Occidental conduct Training-Workshop on ARB Success Stories through Radio Drama, Short Film, and Documentary
Training-Workshop is one of the prime opportunities to expand the knowledge of students of Central Philippines State University-Main Campus. However, the financial demand it requires may be too ambitious especially for students who belong to the poverty line. Despite the drawbacks, this medium could provide both the students and the involved institutions all the benefits that would make it a worthwhile investment.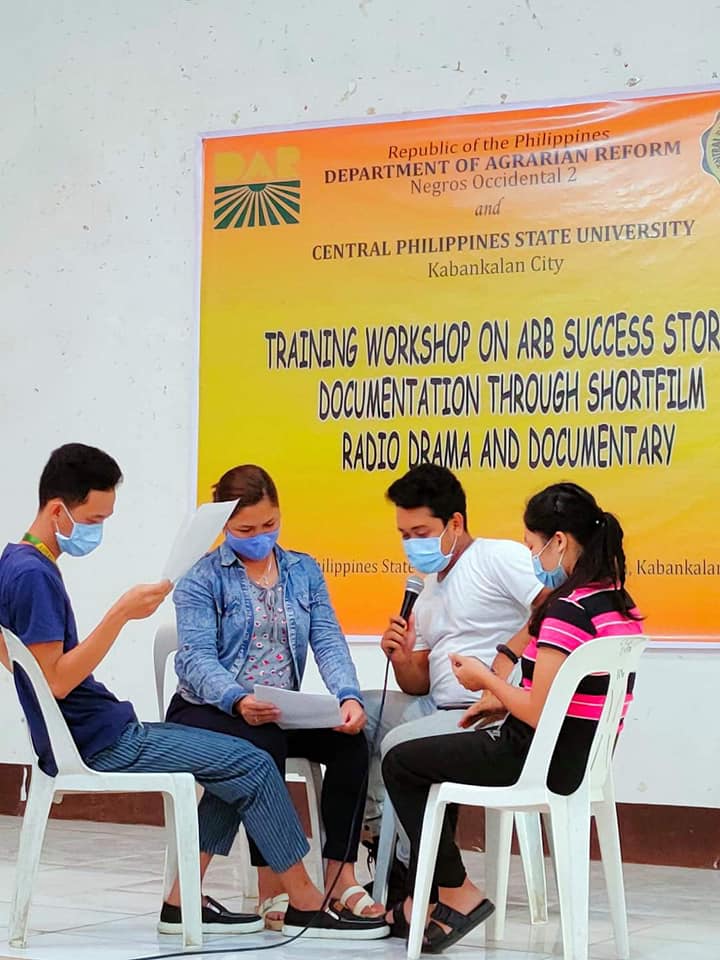 With this in mind, the Development Communication and Information Office of CPSU, headed by Dr. Flora L. Carpio in partnership with the Department of Agrarian Reform Negros Occidental 2 conducted a training-workshop on agrarian reform beneficiaries (ARBs) success stories through Radio Drama, Short Film, and Documentary last February 22-24, 2021 at Mount Ballo Hall, CPSU Main Campus. This activity is one of the programs of both agencies to better capacitate young students in their God-given crafts and amplify the implementation of different agrarian reform programs of DAR in Southern Negros Occidental covering Bago city down to the Municipality of Hinoba-an.
During the three-day training workshop, 20 selected students from different colleges and DAR delegates underwent a fast-paced conceptualization of ideas and delivery of outputs on Radio Drama Script Writing and Short Film using all the available resources at hand. Students were divided into three groups such as; Marasakit Group, TeamBoc Group, and TEAM C.
Judging the presentation of each group were Dr. Enrique Paderes, Provincial Agrarian Reform Program Officer 1 of DAR Negros Occidental, Dr. Flora L. Carpio, CAS language instructor and DCIO Director, and Sir Jeprox Lingamen, faculty of the College of Arts and Sciences.
Several student-participants bagged awards from DAR and CPSU for their best radio drama stint during the presentation. The awardees were Jeanwin Belera, Mary Ann Pepito, Rosemhay Calipong, Rommel Alonzagay, Asiel John Palabrica, and Reymund Titong.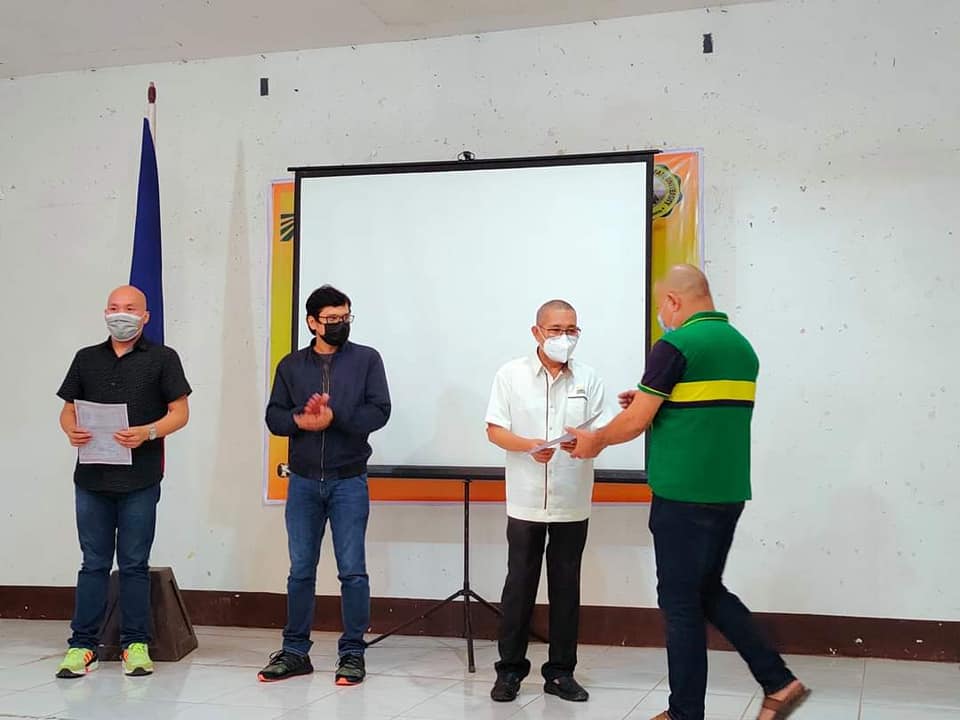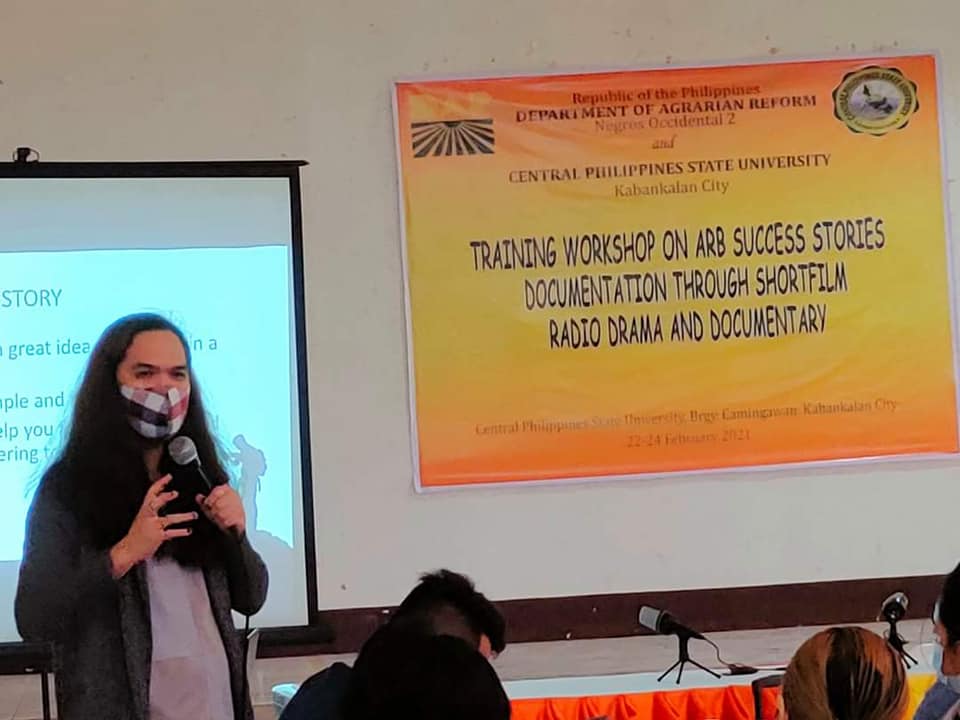 During the said activity, DAR showcased their short film entitled, "STOP ARIENDO". This is in response to the call of the agency against the illegal sale and transfer of land being awarded to agrarian reform beneficiaries.
TeamBoc, one of the groups in the said training, featured the life story of CPSU President, Dr. Aladino C. Moraca that focused on his character of being goal-driven.
Meanwhile, Team Marasakit and Team C featured the success stories of the ARBs highlighting on the spirit of being sturdy amidst diverse hurdles that seem to cripple their will-power and optimism to push through and overcome life's obstacles.
Dr. Fernando D. Abello, the Vice President for Academic Affairs, once said during his speech in the DAR-CPSU MOA signing last January 29, 2021, that trainings like this would help students gain a higher level of learning, develop new set of skills that would broaden their opportunities, and condition young students as products of the University who can contend with other leading universities in the country.
Likewise, DAR Negros Occidental 2 Team Leader, Mr. Drexel Pajarilla, stated that the core purpose of the activity was to use this as an avenue where people can converge and plan for sustainable and productive programs beneficial to the community anchored on the objectives of DAR.
"Continue to develop your crafts and let's work together hand in hand, see you all on our next training" Pajarilla added.
Also present on the said activity were Dr. Mae flor G. Posadas, Vice President for Research and Extension, Ms. Diona Molina, Sir Hector Noquilla, Ma'am. Recca Inguillo, Sir Mark Anthony Bana-ag, Ma'am Mary Germi Calalas, Ms. Dolly Chua, and Ms. Pauline Benito, along with other DAR personnel.
By R. Titong, BSHM 4, edited by: J. Emoy
Photo credits: F. Carpio