CPSU alumnus Nick Gador bags Asia Pacific Luminare Award
There are many stars in the sky, some shine brighter than the others. But one thing is true, each one is a star regardless of the level of brightness and shine. One such star flickered brighter in the night sky, having planted his dreams higher to inspire the rest.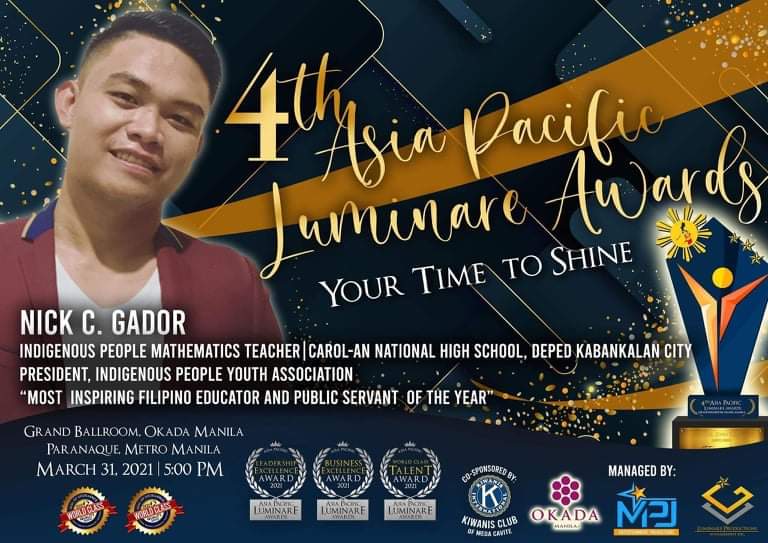 He is Sir Nick Crispina Gador, an alumnus of Central Philippines State University, a Cenphilian star who had shone brightly in the luminous night sky giving us a glimpse of his humble achievement.
He is a graduate of Bachelor of Secondary Education (BSED) major in Mathematics with high academic distinction in our beloved Alma Mater, the Central Philippines State University - Main Campus. He is a scholar of the Negros Occidental Scholarship Program - Indigenous People Category for four years and passed his Licensure Examination for Teachers (LET) last September 30, 2018.
He has obtained his Diploma in Statistics at Alison Institute of Advance Studies and is currently finishing his Master's degree in Education Major in Mathematics at the University of St. La Salle - Bacolod City.
Being a proud member of the Indigenous Peoples (IPs) in the Philippines, in his young age he is an active advocate of IPs in his community.
He is the former President of the Indigenous People Youth Association or IPYA whose main platform is to reach out and empower the young members of the Indigenous People.
In his desire to showcase their culture in line with his field of specialization, he conducted and presented his research study entitled, "Ethnomathematics: Mathematical Practices of Indigenous People of Tribu Karulano."
Currently, he is a secondary Mathematics teacher in Carol-an National High School in DepEd, Kabankalan City.
In a virtual interview with Sir Nick on how he reached this pedestal of success in his career at an early age, here are his answers.
Q: Can you tell us about the recognition you received in the Asia Pacific Luminare Awards? Could you give us an idea on the goal of the said organization?
A: Asia Pacific Luminare Awards is an organization that searches for the best of the best individuals and companies across all of Asia! Industry titans, corporate heroes, advocates of planet and people.
Asia Pacific LUMINARE Awards, believe that there are people that contribute to the enrichment of the lives of others and it is their time to shine! A LUMINARE, literally speaking is a shining heavenly body (sun and moon) and figuratively, one who has achieved success in their field. These are men and women on the frontline creating opportunities for change and development. They are the ones who are selfless and committed to improving the quality of life for their families, communities, and even for their countries in the Asia Pacific region.
Recipients of the Asia Pacific LUMINARE Awards are selected from candidates nominated by the awards council (peers from the same field, or, beneficiaries of their work). Likewise, many people in our world contribute to the wellness and welfare of our society. Most of the time, it is only those who make the most contribution, those who shine brightest, that get to be recognized and celebrated.
Q: What pushed you to join Asia Pacific Luminare?
A: My family, mentors, colleagues, and friends who served as my inspiration to push me to join Asia Pacific Luminare.
Q: Can you tell us about your research that made you win the award?
Okay, this research paper was accomplished during my baccalaureate degree with my research partner, Hazel Joy Romero, and research adviser, Ma'am Almira Segura entitled "Ethnomathematics: Mathematical Practices of Indigenous People of Tribu Karulano" which aimed to determine the mathematical concepts on the practices of Indigenous people, known as Tribu Karulanon of Barangay Carol-an, Kabankalan City. Among these were measured in units like dupa (arm span), dangaw (hand span), lapa-lapa (sole step), and pyi (foot) in measuring length and units on measurement for volume or capacity like gantang, paya, salmonan, litsehan, sugong and halop sa kamot. Further, they have their way of determining time using the crow of the roosters, the sound of the forest bees in the morning, and the shadow made during daytime.
Q: What is your next move after receiving this prestigious award? How do you lobby this to your IP community and as its advocate?
A: As of now, I am continuing my master's degree at the University of St. La Salle –Bacolod City. As a teacher and member of the indigenous people, we collaborate with the programs and implementations of the Province of the Negros Occidental which is the NOSP and NCIP Scholarships to reach out to students who are deserving and aid them to finish their studies.
Q: What's your secret to success?
A: For me, the secret to success is prayer, determination, and Motivation.
First, Prayer is the most powerful of all. Jesus said in Proverbs 3:5-6, "Trust in the LORD with all your heart; and lean not to your own understanding. In all your ways acknowledge him, and he shall direct your paths. No matter how great or small their stature is or what their environment is like, something that they cannot be without is looking to God and relying on God in all things; this is the greatest wisdom." God's Omnipotence is everywhere and is not influenced by any people, events, things, or other factors. As long as we truly rely on God, He will be our ever-present help.
Second, determination is very important because it enables us to persist in the face of difficulties. It makes us march fearlessly ahead with faith until we achieve our goal. Since life is never smooth, many of us fall off when we come across obstacles. But with determination, we can overcome any type of obstacle.
And Lastly, Motivation is most certainly one of the secrets to success in life. While staying motivated can be incredibly difficult, it can also be extremely rewarding over time. Being a person we are far more able to cope with stumbling blocks and overcome potential limitations on the road towards achieving our dreams.
Q: As an alumnus of CPSU, what words of encouragement could you give to the Cenphilians who are struggling as a student?
I have always believed that with great challenge comes great opportunity. To all the students in CPSU out there, keep on studying because this pandemic won't last a lifetime, and we will need you to be ready all the time. When times are tough remember that CPSU always has your back - from networks of alumni that will go the extra mile for you, to professors that give you as much wisdom as they do knowledge, to the humanists philosophy that lives in your heart. Always pay it forward! If something has been done to help you, then sincerely acknowledge it, but more importantly, pay it forward. We are stronger as a community than when doing things alone. So always pay it forward!. As the Irish poet William Butler Yeats said, "Education is not the filling of a pail, but the lighting of a fire", always keep the desire to learn every day and be determined to achieve your life goals, nothing is impossible to accomplish your dreams if you have the perseverance and focus on it.
Sir Nick Gador reminds us that we are our own star. Be the one that has the brightness luminance in the ocean full of people, in the scorching heat of the sun; be the hope as the sole oasis in the desert and in the large swamp of timberland be the gleaming flower that outshines the rest.
By Shaila Palmes, BSABE III and J.A. Emoy