CPSU facilitates turn-over of RU Foundry agri-machineries to CATAFA members
The University's serious commitment to assist local farmers in the community through various sustainable livelihood and farming technologies support and assistance led to the forging of its partnership with RU Foundry and Machine Shop Corporation (RUFMSC), the Eco Agri Foundation Inc., and the Camingawan-Tagukon Farmers' Association (CATAFA).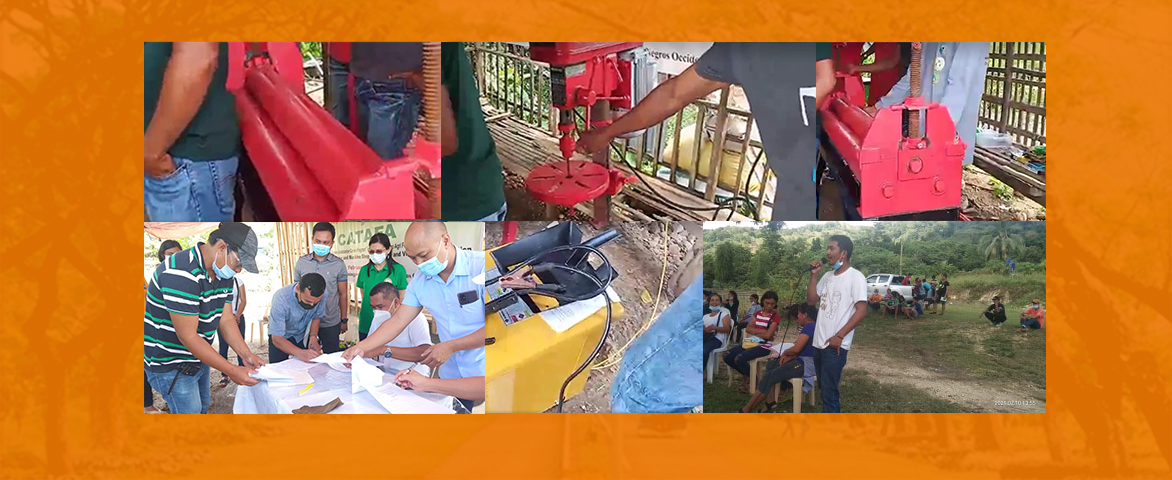 With this, a ceremonial launching and turn-over of "Start up Support Small Facility and Equipment for Community-based Industry Development Project" to the CATAFA members was conducted last February 10, 2021 at Purok Mainit, Brgy. Camingawan, Kabankalan City.
The said initiative was realized through the RU Farmers' Assistance Center Program which was implemented by the Eco Agri Foundation, Inc. with support from the Central Philippines State University (CPSU) Office of the Research and Extension Services and the College of Agriculture and Forestry (CAF), the RUFMSC and the Villar Sipag Foundation.
Dr. Aladino Moraca, CPSU president, said during his talk that engaging in effective partnerships with various LGUs, and private agencies increase the opportunities for livelihood sustainability of farmers in the countryside.
"This initiative is a welcome development that yields efficient and productive outcome to the community. The support of our partners in the realization of this project will result to a gainful living of our farmers for a better and brighter future for them and their families," Dr. Moraca stated.
He likewise acknowledged the huge support and contribution that RU Foundry had given to CPSU for the past years. The company's farm machineries and equipment donations to the University's initiatives relative to agriculture and farmer support had been unfading. RUFMSC, headed by its owner and CEO, Ramon Uy, Sr., has been widely acknowledged throughout the country for their top-quality fabrications and innovations of agricultural and industrial equipment, metal parts and components, including projects that preserve and enhance nature's beauty while at the same time promoting organic way of living.
In response, Sir Ramon Uy, Sr. assured his commitment to continually support the initiatives of CPSU. He likewise articulated his willingness to assist farmers by providing free training on the operations related to the farm shop to improve their state of living.
"With the opening of their small scale "pandayan" or agri-machineries for the repair and fabrication of agriculture implements, tools and devices, rest assured that this will generate jobs and will spark up better opportunities to our farmers," Sir Uy, Sr. said.
Afterwards, the MOA signing between CPSU and CATAFA, RUFMSC and Eco Agri Foundation took place. The said agreement stipulated the provision of agri-related assistance to CATAFA as they also utilize green technology and organic agriculture farming.
Part of the said event was the formal turn-over of the solar-powered water system to the CATAFA members. The said project was the output of the three-day training workshop conducted by the CPSU CAF to CATAFA which also happened last Feb. 1-3, 2020.
More than 100 attendees witnessed the said event. Among them were the Executive Director of Eco Agri Foundation Sir Danny Moraca, Business Owner Ramon "Chin-chin" Uy, Jr., representative from Villar Sipag Foundation, CATAFA Chairman Arnel Calago, Camingawan Brgy. Council represented by Kgd. Noli Cabardo and Kgd. Antonio Canonoy, CPSU VP for Research and Extension Dr. Mae Flor Posadas, VP for Admin and Finance Dr. Marc Alexei Caesar Badajos, Extension and Community Services Director Dr. Jimmy O. Degillo, Graduate School Dean Dr. Mary Ann Dagunan,and CAF faculty Maryvic Pedrosa, Genalin Mangao, and Jundel Gonzaga, among others. (Source: M. Pedrosa)
By: J.A. Emoy
Photo credits: M. Pedrosa and G. Mangao