CPSU's banana and sweet potato flour gains threshold in boosting flour industry in the region
Addressing the need to arm farmers with necessary life skills to combat the present depressing economic condition induced by the COVID-19 pandemic has been one of the forefront goals of Central Philippines State University (CPSU).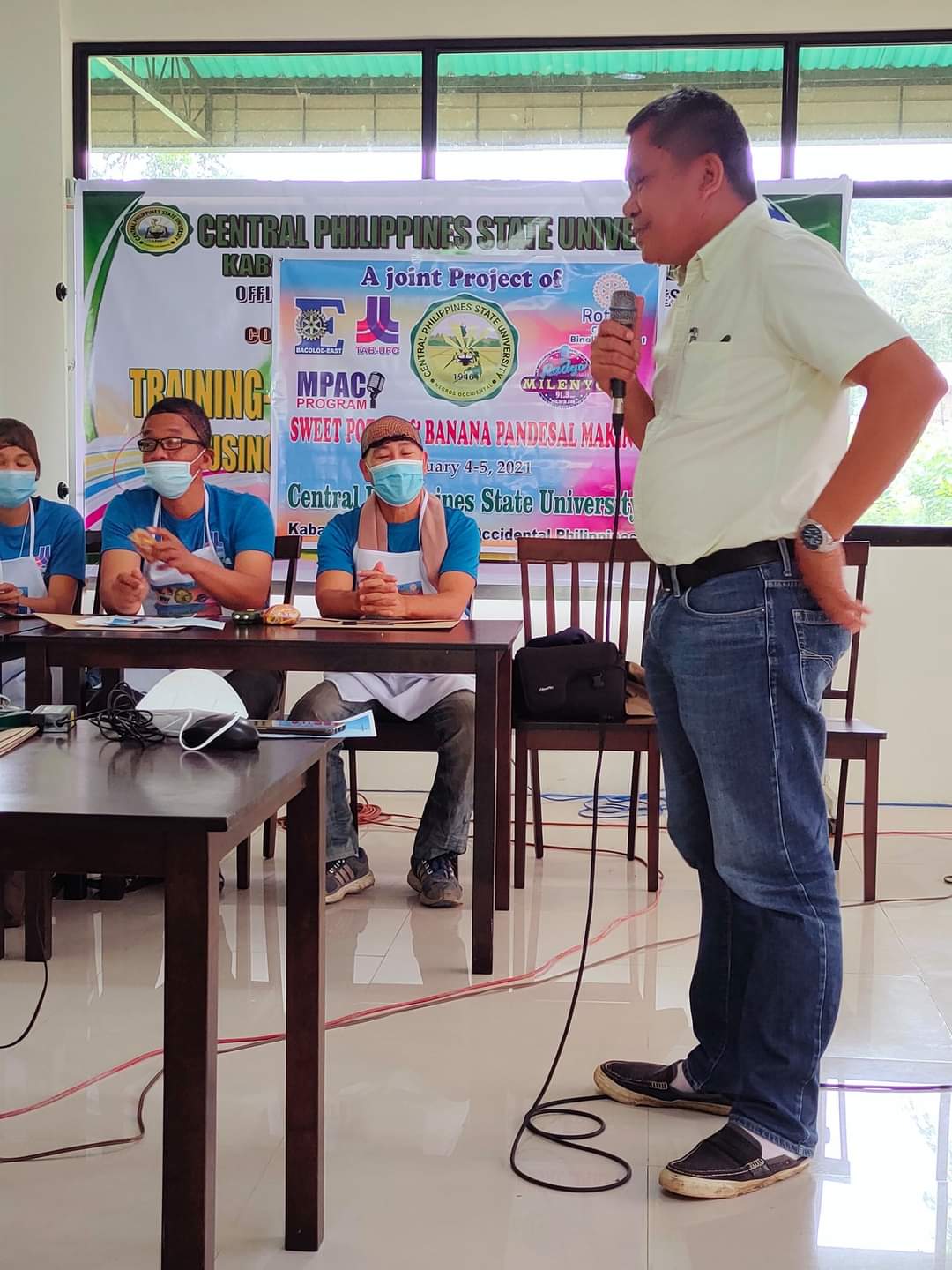 Through its Research and Extension unit, the University has come up with various effecient and practical farming initiatives and agricultural technologies that aim to help local farmers augment their income, and improve their living conditions.
One of which is its own production of local flour using underutilized resources such as banana and sweet potato. These crops, indigenous in the locality, were proven to be effective substitutes for the commercially imported flour.
With the "Green Mining Technology" being developed and utilized by the University for its sweet potato production, this ensures continual supply of raw materials for its local flour. This project also taps local farmers within the community to increase production of raw materials, thus providing livelihood benefits for them and their families.
These matured technologies of the University are likewise shared to the farmers through various extension activities. One of which is the recently-concluded "Pandesal making" using banana and sweet potato flour to 20 members of the TUKIB Upland Farmers Corporation coming from the eight chapters in Negros Occidental.
Held at the CPSU-Main campus, the said training was conducted by the College of Business and Management Dean Sheila Ignacio. Together with her were CPSU President Aladino Moraca, VP for Research and Extension Dr. Mae Flor Posadas and Information and Communication Office Director Dr. Flora Carpio. The said activity was realized in partnership with the Rotary Clubs and organizations.
Among those present were Rotary Club of Bacolod - East President lawyer Belinda Siason Gochuico, RCBE - Binalbagan Chapter President Rael M. Lopez, John Deles, Moises Padilla Action Center Program Anchor.
This activity is the University's second extension activity on Pandesal making using banana and sweet potato flour, with the first one held last December 28, 2020 which was participated by farmers within the CPSU community.
Seeing its great potential as replacement for imported commercial flour, Dr. Moraca stated that this will provide livelihood opportunities to farmers for sustainable income. This will also be introduced to the students to nurture their entrepreneurship skills. Doing so would equip the next generation of entrepreneurs with vast and practical livelihood opportunities for food security.
"This is one of the University's initial take off in support to DA Secretary William Dar's goal of establishing rural industrialization in the region. Boosting flour production using our own locally available resources will lead to the creation of wealth in the local industry," Dr. Moraca said.
President Siason Gochuico and her team also expressed gratefulness to the University for extending this technology to their farmers that ensures additional knowledge and wider livelihood options for them.
The value chain of this grassroots initiatives would secure economic benefits in the local economy through employment opportunities, as well as proper utilization of underutlized resources. This initiative may just be the answer in reducing rural poverty in the countryside.
By J.A. Emoy